Since I'm very much in the doldrums as far as Exciting Things To See are concerned for the next wee while, I thought I'd trawl back through the archives and see what I can dredge out for the interim period. Life seems to be very focussed on the medieval period just now, so I decided to turn the spotlight on Lincoln Cathedral.
Lincoln Cathedral's a source of some embarrassment to me. I watched various series on the great cathedrals a few years back, and somehow got it into my head that Lincoln was synonymous with scissor arches. Did I bother to consult my many reference books to confirm this? Did I look at the taped videos of the great cathedrals to check I was correct? No, of course not. Instead, we booked our holiday, zoomed down to Lincoln, hopped around excitedly for an evening, then jumped in through the west door the following morning and found - no scissor arches. [They are, of course, in Wells Cathedral, which I've featured in a previous blog post].
When I took these photos, I didn't have blogging in mind and I hadn't done much in the way of building photography, so some of them are a bit iffy. Like the one below, which is completely squint. But it's a good view of the facade, and it shows just how monumental the building is:-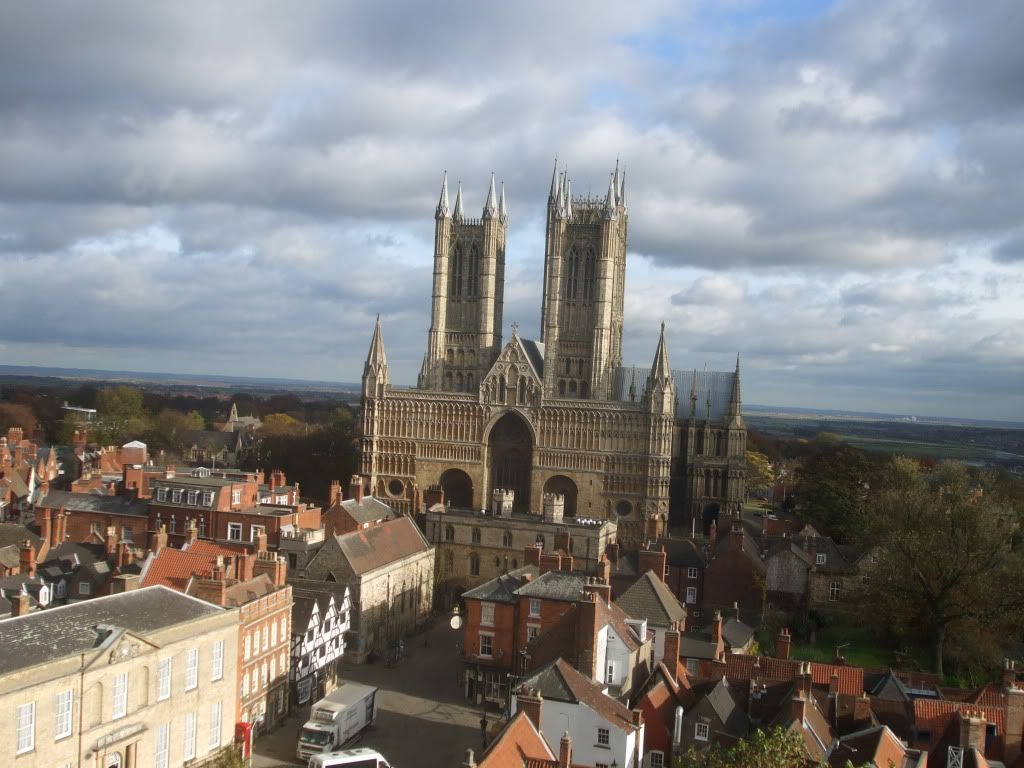 And a close-up of the tower, which shows just how ornate this structure is in terms of its external decoration:-
I'll spend the next few days at Lincoln (in a metaphorical sense!) and share some of its wonders with you. As you've probably realised, finding myself at the wrong cathedral wasn't that big a deal. An exploration of Lincoln Cathedral revealed many things that were interesting, exciting and well worth seeing. What was even more amazing was that Lincoln actually managed to leapfrog Durham in my list of favourite cathedrals and slot itself into equal first place - alongside Wells (which also proved itself worthy of an equal top spot when I finally got around to visiting it).