Poor old Nethermost Pike. It's earned itself the reputation of being the unloved little sibling of its more celebrated neighbour, Helvellyn. Wainwright sums it up nicely as follows:-
'Thousands of people cross the flat top of Nethermost Pike every year, and thousands more toil up its western slope. Yet their diaries record "climbed Helvellyn today." For Helvellyn is the great magnet that draws the crowds to Nethermost Pike: the latter is climbed incidentally, almost unknowingly, only because it is an obstacle in the route to its bigger neighbour. The grassy west slope trodden by the multitudes is of little interest, but the fell should not be judged accordingly: it is made of sterner stuff. From the east, Nethermost Pike is magnificent, hardly less so than Helvellyn and seeming more so because of its impressive surroundings.' (
The Central Fells
,
Nethermost Pike 2
)
Last summer, when we scaled Dollywaggon Pike, we struck out for Nethermost Pike and missed it. We made up for this omission last Saturday. The summit itself is fascinating: covered with shattered pieces of rock that make it look like it's surmounted by an enormous cairn (it isn't...).
Here are the views that were just reward for our effort. They were spectacular: at 2920', Nethermost Pike is a respectable mountain in its own right. There's an awful lot of foreground, I'm afraid, because I was too feart to go venturing close to the chasm. Okay, the wind was blowing away from the long drop, but still....
This is the view towards Helvellyn, showing Striding Edge in its wider context with the beautifully named 'Catstycam' visible beyond:-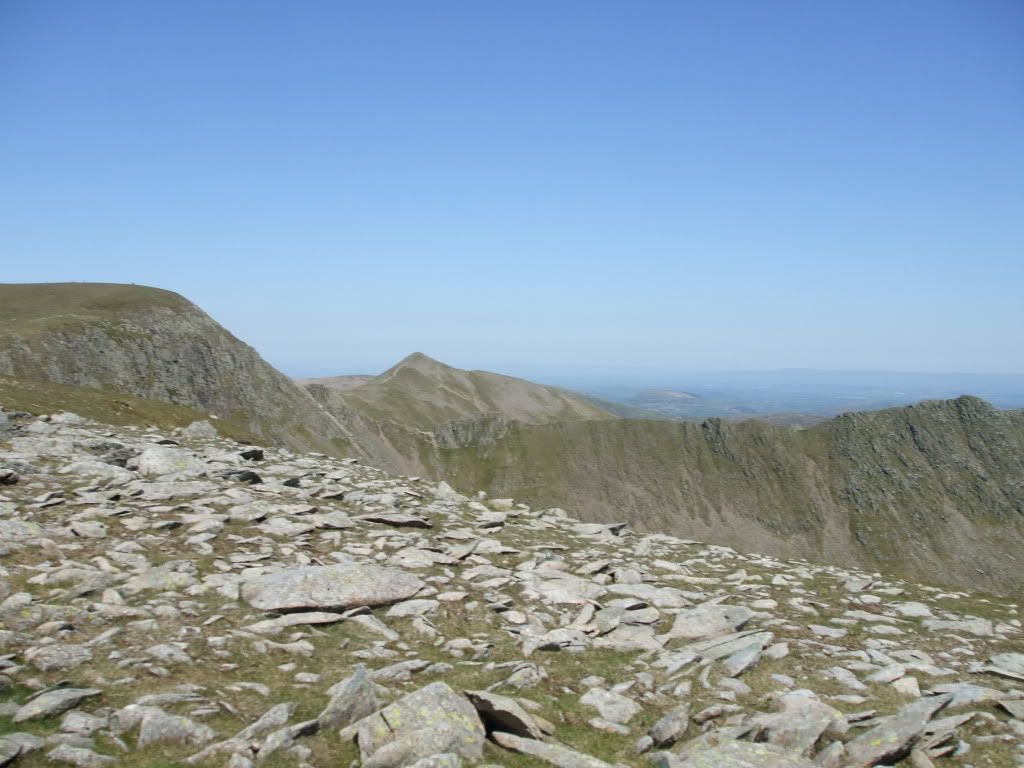 The view below is almost a dead ringer for one of Wainwright's illustrations, and according to the Man Himself, we are looking down Grisedale towards Place Fell with Ullswater just visible in the distance:-
Another view of Grisedale now, with St Sunday Crag to the right:-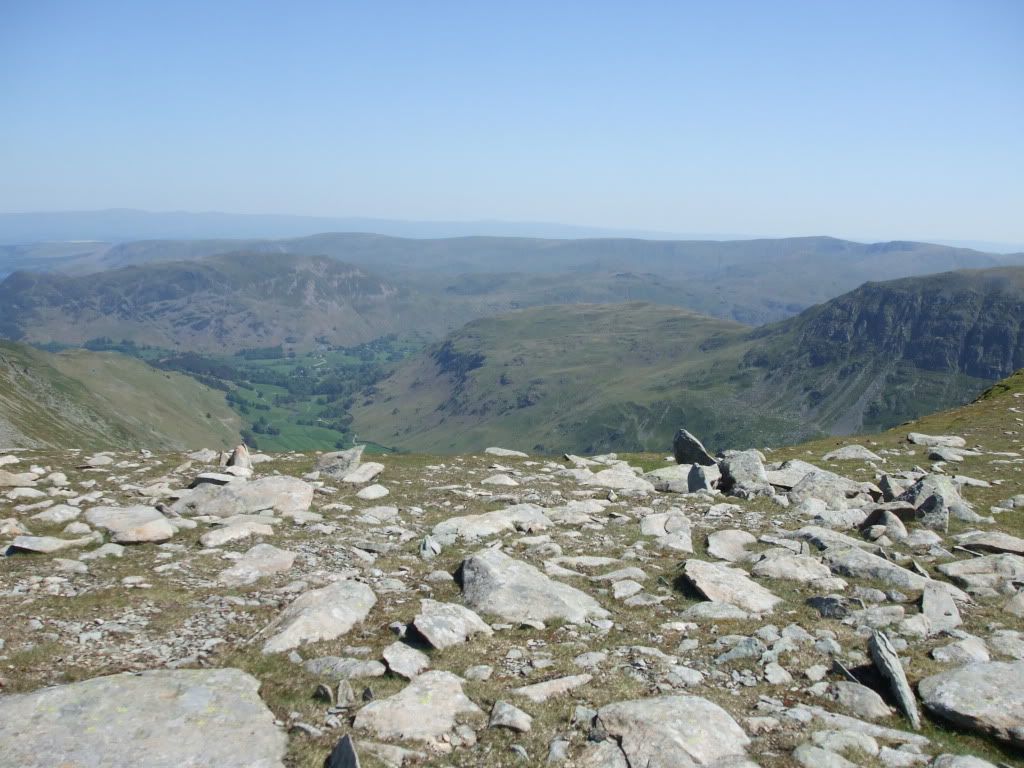 One last view of the descent now, showing a wider view of the central fells, with Steel Fell, Gibson Knott and Helm Crag in the middle distance, and the outline of Harrison Stickle visible to the right:-
And that was that. I'm already planning the next onslaught on the Lake District fells, even though I've already exceeded my annual target of three Wainwrights. If we wind up doing the Fairfield Horseshoe this summer, I'll have managed to tick off nine Wainwrights in a year, which would be pretty good going, I think!