Time for a garden post now.
It's that time of year again. The time when the azalea and rhododendron are in their prime.
I should probably have done a special feature on our azalea and rhododendron, but by the time I stopped footering around with the garden and got round to the photography, I'd lost a lot of direct sunlight and was limited in my choices for photographs.
A view across the front garden now. The big weeping silver pear on the corner is now in flower, and there are a few azalea and rhododendron visible in shot:-
The pale flowers in the distance, just in front of the weeping silver pear, belong to a rhododendron of the variety called 'Hoppy'. I'm sure I chose it in the first place because I liked the name as much as anything else, but it is rather pretty:-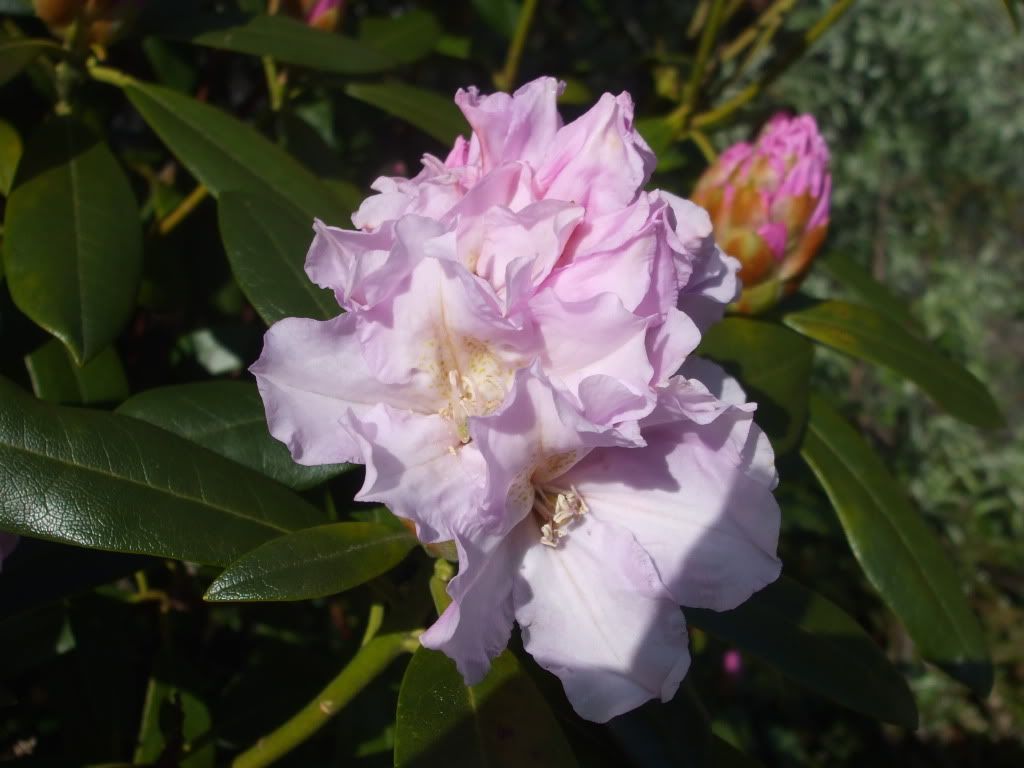 The back garden is quite quiet just now, while we wait for the poppies and the aquileagia to leap into action, but there are a few favourites in bloom. Particularly the auriculas:-


I
I keep meaning to buy more auricula, but they're tricky little beggars to grow successfully, and I'm keen to get hold of some of the really pretty and exotic ones which are available from specialist growers.

I've also built up my first pot. I'm hoping I'm not being premature with this one, but I'm pretty sure our frosts are finally finished, and if the worst comes the worst, I can do something drastic like drag it into the porch overnight.

Anyway, I opted for a pelargonium as the central feature, with petunia, surfinia and bacopa accompanying. I've still got a couple of gaps, so I might shove in some lobelia when they finally arrive:-


What the group photograph doesn't show, unfortunately, is the flower of the pelargonium, which is absolutely lovely. It's Geranium Species Sidoides, which came courtesy of The Vernon Geranium Co., and it's a wee cracker:-


I'm looking forward to seeing how it progresses throughout the year, as it becomes established.

Watch this space!!

And today it's wet and windy, so I'm going to do some writing. Woo hoo!!