Because I had a fabulous day at work today, speed-writing captions to accompany an array of pretty slides which summarised almost twelve thousand years of human occupation in Scotland (Mesolithic to World War II - Phew!!!) and appeasing that frustrated part of me which is and will always be a Failed Academic (!). And because I'm currently enjoying a television history of WALES which is being shown on BBC SCOTLAND (wonders never cease...)...
...I thought I'd indulge in some gratuitous photos of Segbury Hillfort.
Okay, it's not quite an Uffington in its grandeur, because it's a univallate hillfort, as opposed to a more complex multivallate hillfort, but its scale is still quite staggering;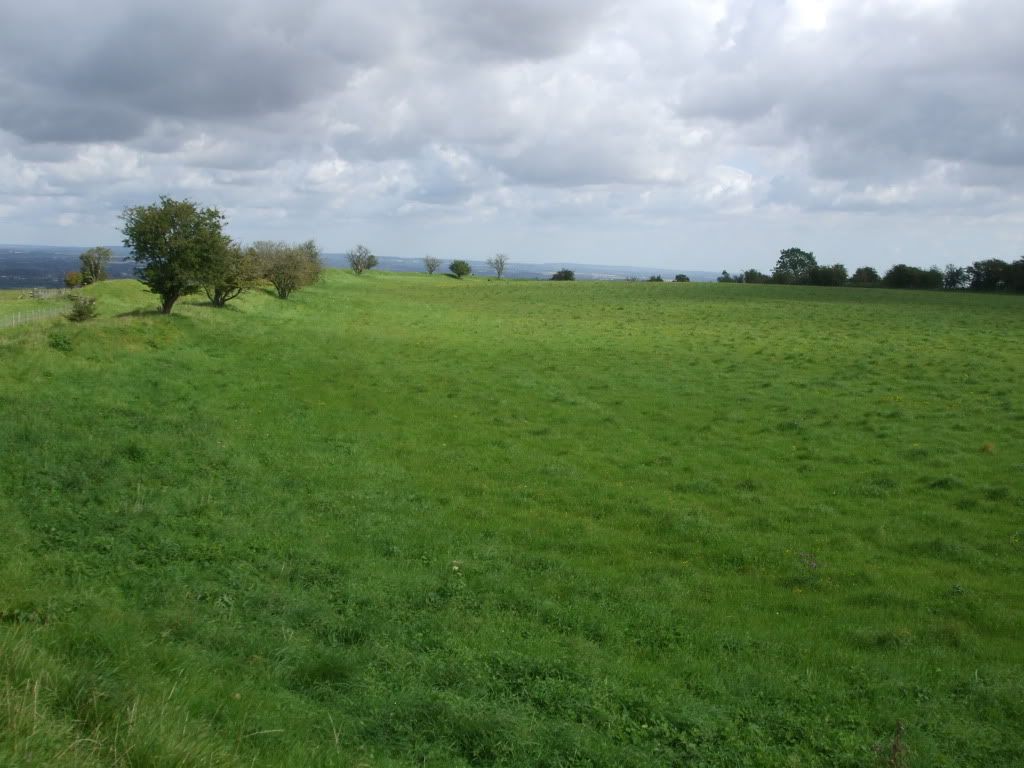 Once upon a time, a helpful person planted trees upon the rampart, which might not do the rampart much good in the long term on account of the resulting root disturbance, but it sure helps get an understanding of the size of its interior.

In one field, we get one half of the monument. Here's a view of the other half, from the road that splits it in two:-

You can just see the rampart as a darker green strip along the horizon above the interior of the field...

My last photo features the rampart. I said earlier that Segsbury's a univallate fort - well it is over most of its extent, except in some places where parts of a second, outer, rampart can be identified:-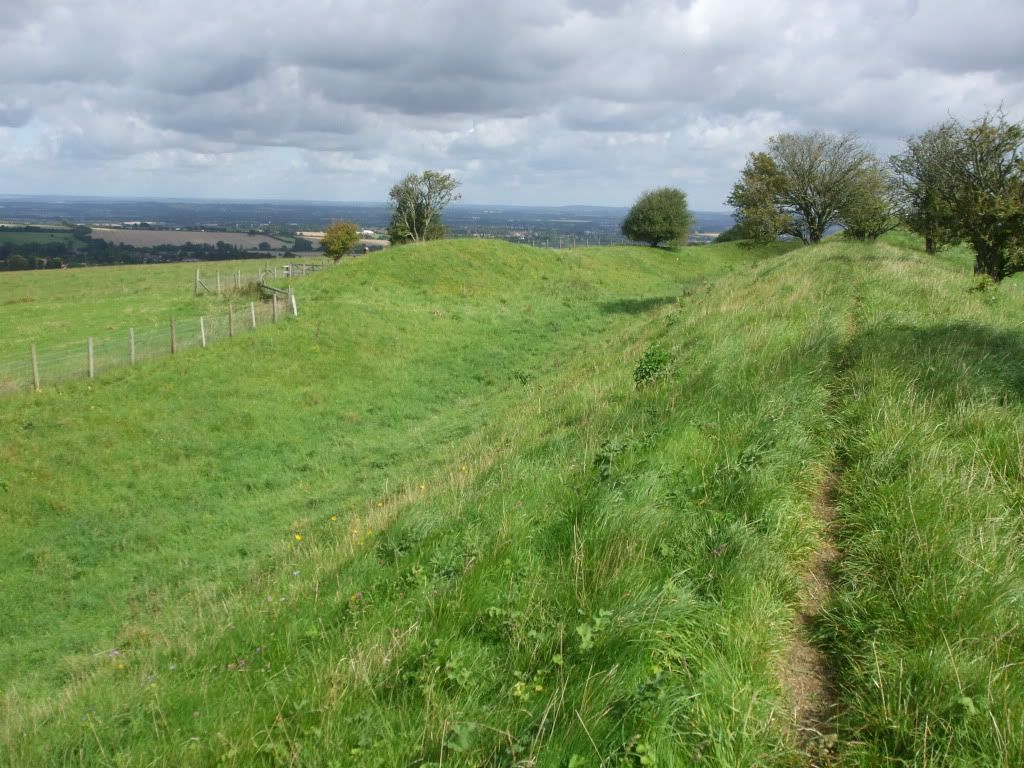 Well, Part One of The History of Wales is over. I've always wanted to see a programme like this on Welsh history, and I knew one was in the pipeline, but I was kind of hoping that it would be a bit more in depth and presented by a Neil Oliver type. Don't get me wrong - I like Huw Edwards a lot, but he ain't no professional historian, if you get my drift...

Anyway, what struck me in this first episode devoted to Welsh prehistory and extending through to the early medieval period was firstly how much I already knew, and secondly how many of the featured sites I've actually visited in the past: Tre'r Ceri, Pentre Ifan, Caerleon, St David's, Great Orme. And Llanfair PG, too... In a way this is of course quite reassuring, since Wales is supposedly the Land of My Fathers but I'd hoped I'd learn something new...

Ah well. One thing's for sure: I really must pencil in another visit to Anglesey some time, just so I can check out the chambered tombs. A return visit to the one and only Paris Mountain would be on the cards, too (please forgive any spelling mistakes, oh Welsh followers of this blog!!)

Oh, and then there was the one, the only, the magnicent - LLYN FAWR HOARD!!! Yay!!!!!!

And tomorrow we'll no doubt be progressing onto the medieval period. Eddy I, Llewellyn & Co. And all the Welsh castles... Can't wait!!!