endlessrarities
Tucked away in the middle of a council scheme on the outskirts of the City of Glasgow, there is a castle. It lies a wee bit off the tourist trail - when we tracked it down yesterday, we were surprised to see that its presence was still advertised by some old Ministry of Works signs, which pre-date the advent of Historic Scotland...
It's a shame Crookston Castle isn't better known, because it lies just a short hop away from Pollok House and the Burrell Collection, which are 'must see' destinations on any tourist itinerary of Glasgow. It hasn't played a monumental role in the history of Scotland, but as a bit player, it's seen its fair share of action.
It cuts quite a dash from a distance - apart from the naff handrail at the top of the tower, which looks horribly intrusive, but with the chances of falling from the top (or getting pushed!!) relatively high, I suppose it's a necessary requirement for visitors:-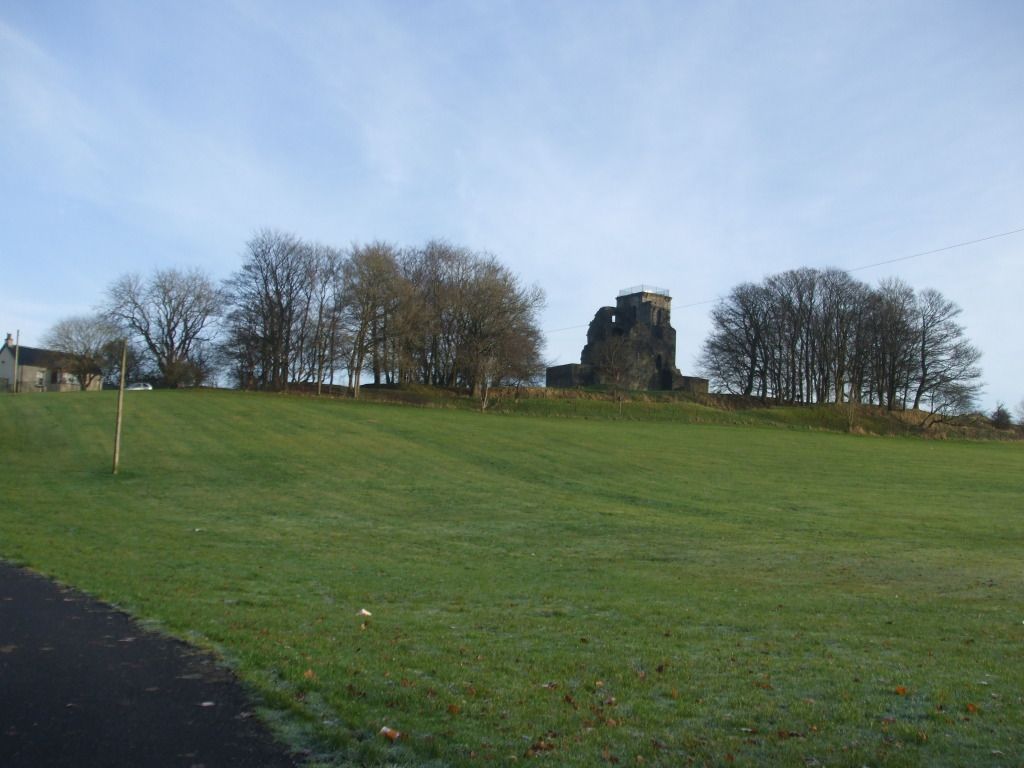 Eagle-eyed blog followers will, I hope spot the earthworks at the base of the tower - now planted by mature trees. No, the castle is not built upon the site of an earlier Iron Age hillfort. Nor are the earthworks contemporary with the stone tower, which itself represents the remnants of a much larger stronghold.
The earthworks are, instead, the remains of an earlier medieval ringwork - a circular rampart which would once have enclosed a timber defensive structure. Ringworks are akin to the Irish cashels, and they're quite rare in Scotland, though there are a couple in the west. I guess they fell out of favour when the motte-and-bailey castle became fashionable amongst the followers of David I, who brought all sort of novelties to Scotland, like planned burghs, and parishes, and a feudal system of land tenure.
The earthworks at Crookston are very well preserved. In fact, the weather being what it is, the castle might even be called a moated settlement, in places:-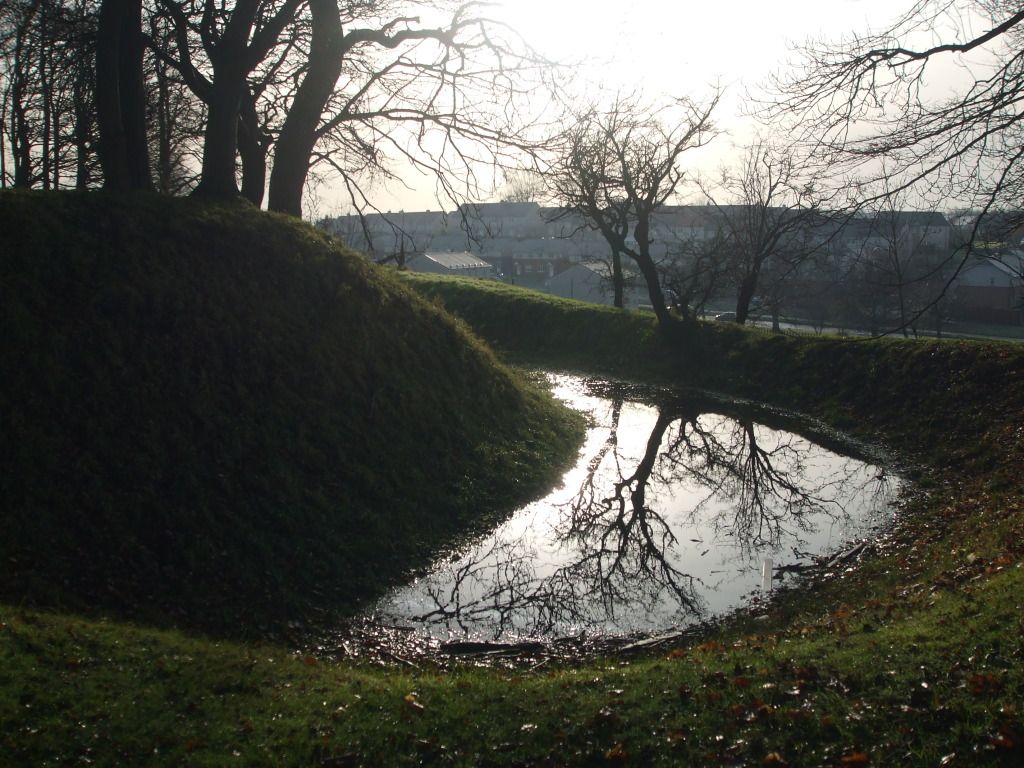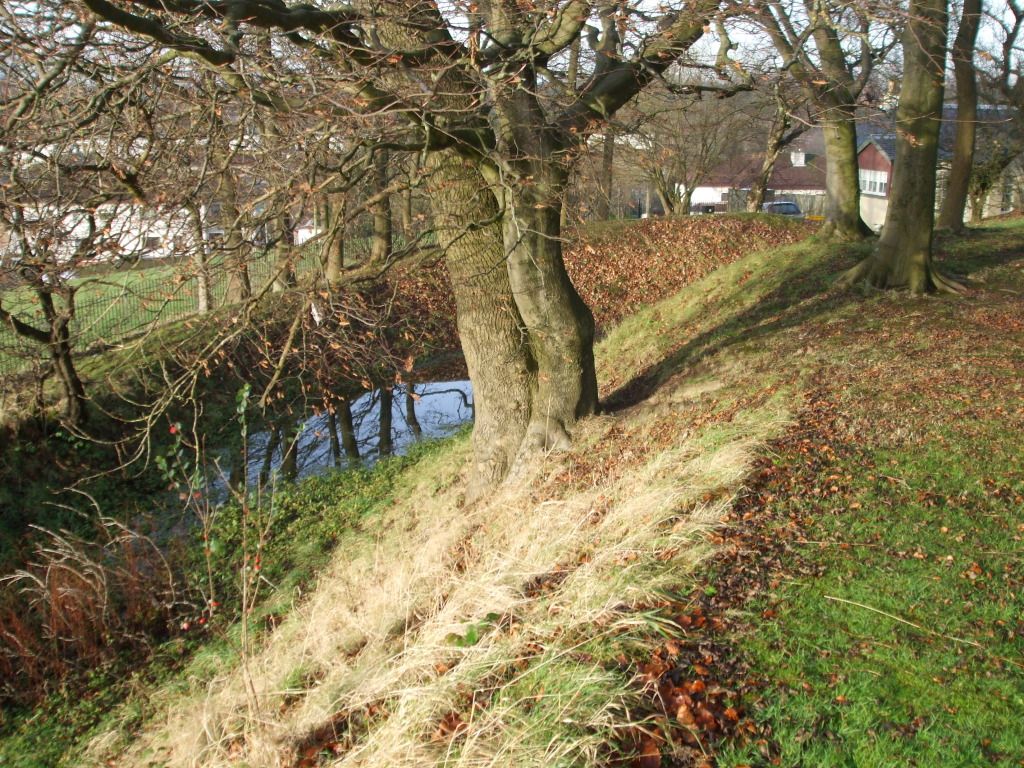 And at the heart of the ringwork is the castle proper, an imposing structure which has seen its fair share of wear and tear throughout the centuries. It gets a mention in my forthcoming novel, though it never actually makes an appearance, and that of course is why I paid it a visit yesterday. I was renewing my acquaintance, because I'd already had a good look round it when I was researching the novel:-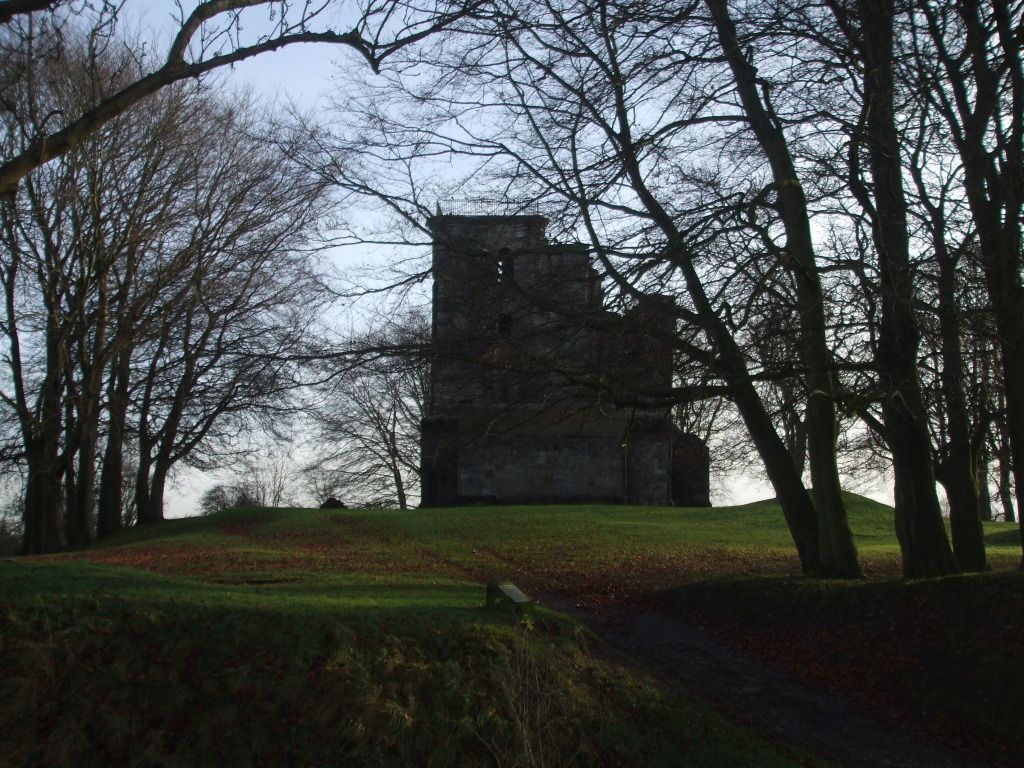 Sadly, it was all locked up and the interior inaccesible to visitors. Hopefully this is because it's been mothballed for the winter season, rather than because Historic Scotland can no longer afford to keep it open on account of the recession. It's not exactly in the Premier League as far as Guardianship Monuments are concerned, but it's one that should really be better appreciated by the locals!!

I'll give you a closer look at the castle later on in the week.