Hot on the heels of Wayland's Smithy comes another chambered tomb now. This time it's a bit closer to home - yes, at last J and myself managed to track down that elusive beast known as the Haylie Chambered Cairn, which lurks up on the raised beach behind Largs.
This monument is also known as 'Haco's Tomb' - Haco being a reference to King Hakon, who led a band of Norsemen against the Scots in the Battle of Largs (1263). There are a few prehistoric monuments recorded around Largs: by the nineteenth century they'd earned a place in local folklore as burial markers for dead Vikings, or monuments set up to commemorate key sites in the battle.
They are, of course, several thousand years earlier than the battle itself. The earliest of these monuments is undoubtedly this chambered cairn, which I've tried and failed to locate on a previous foray into Largs but which today I actually managed to track down!!
It was originally part of a much larger mound called 'Margaret's Law', but this has been largely removed over the past two hundred years leaving just this burial chamber ('Haco's Tomb') behind:-
Fans of Neolithic monuments please note that this particular example is not a representative of the Cotsworld-Severn group. I cast a critical eye over it today, trying to figure out if it was a prime example of a Clyde-Carlingford, but since I couldn't see any sign of any overlapping side slabs, or any horizontal slabs subdividing the chamber ('septal slabs') I wasn't convinced:-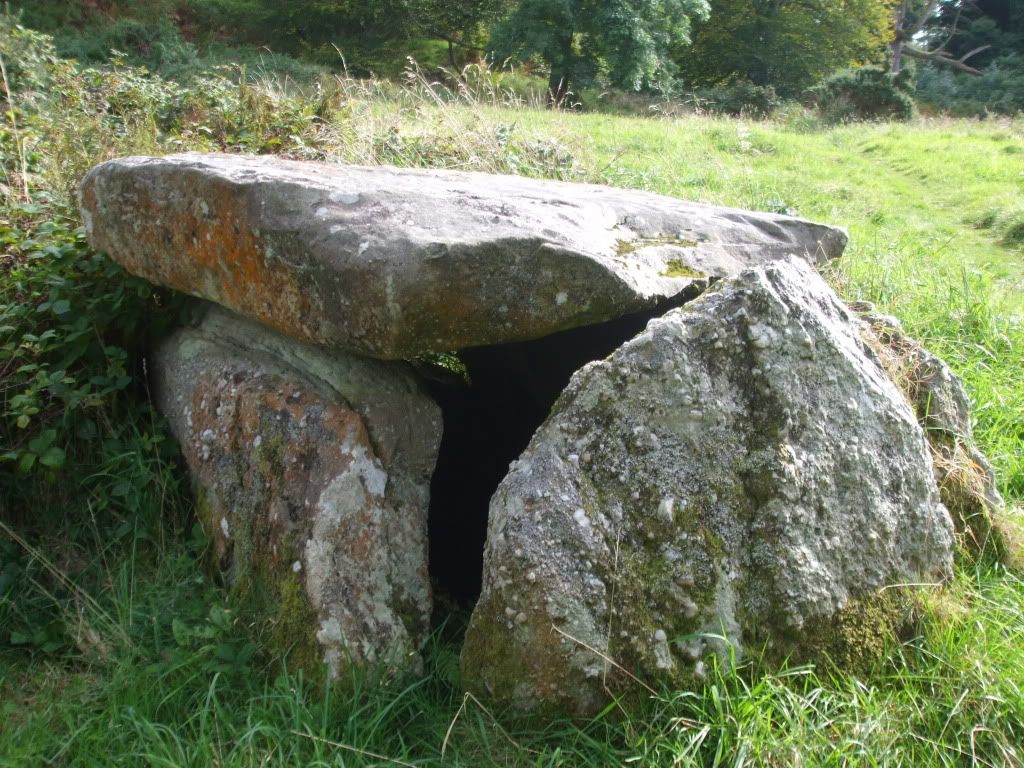 But according to the experts, the Haylie cairn is indeed an example of a Clyde-Carlingford, though sadly this chamber represents a much diminished remnant of what would originally have been a much bigger and more impressive monument. Futher information is available, on both the monument itself and the results of the early excavations carried out here, in the RCAHMS' Canmore entry which I have linked to below:-
http://canmore.rcahms.gov.uk/en/site/41155/details/margaret+s+law+haco+s+tomb+haylie/
And because we were walking through Largs enjoying the prehistoric monuments, I just couldn't resist taking another picture of the Bronze Age standing stone that I featured in photos from my last visit to the town. Only this time it doesn't look quite so gloomy!
Oh, and as a postscript, gardeners amongst you will be delighted to hear that my ivy-leaved pelargonium 'Vectis Glitter' has now been dug up and brought in for the winter, so it will hopefully provide us with another year of productive blooming in 2013!
And the begonias are still hanging in there, stubborn as always...