And in case you're wondering what we were doing before we went climbing up to Alcock Tarn, then here's the answer...
Once again, we did the tourist thing, this time visiting a National Trust property. As you can well imagine, the area around Grasmere is stuffed full of National Trust properties, usually connected in some way with William Wordsworth. And - I fear to report once more - we never seem to get around to visiting any of them.
Allanbank is a recent acquisition, and it makes a refreshing change from the day-to-day fare I stumble across in my line of work, providing us with that very rare thing, an architectural story with a happy ending.
Like most of the National Trust properties in the area, Allanbank has Wordsworth connections. William and Dorothea Wordsworth lived here at one point, and I can certainly see why. I'm sure all my writing friends would agree that if there was ever a place where you're guaranteed to find inspiration in your surroundings, this is it.
Here's a view of Allanbank in its wider landscape context, with Seat Sandal and Stone Arthur in the background. It lies near the path to Silver Howe, and until a few years ago it was in private ownership:-
It's not an easy building to decipher, as the exterior is rendered and there's no clear differentiation of building styles over much of its extent. This part of the building is Georgian - Wordsworth wasn't too impressed with it at all at first, describing it in words similar to Prince Charles's renowned 'Monstrous Carbuncle' speech. He must've mellowed as time passed, if eventually he was willing to move in.
Long after Wordsworth's time, the building was extended substantially - as usual, in a building of this quality, a buildings archaeologist has been consulted during the renovation process and they've taken the opportunity to investigate the structure and map its changes as the works have progressed.
Now here's the tragic bit. I mentioned earlier that the building was being renovated and that it was originally in private ownership. It was during this period - in the late 90s, I believe - that a fire broke out in the attic. Thankfully, a member of the family was in residence at the time, and they raised the alarm.
The damage was locally signfiicant ( note the blackened plaster and the charred doors prominently displayed on the landing) but was not sufficient to merit the loss of the building, which is now in the process of being renovated, and - perhaps unusually, the National Trust have opened it to the public at this early stage. The end result is that the curious visitor can come in and see a house in a dilapidated, run-down state:-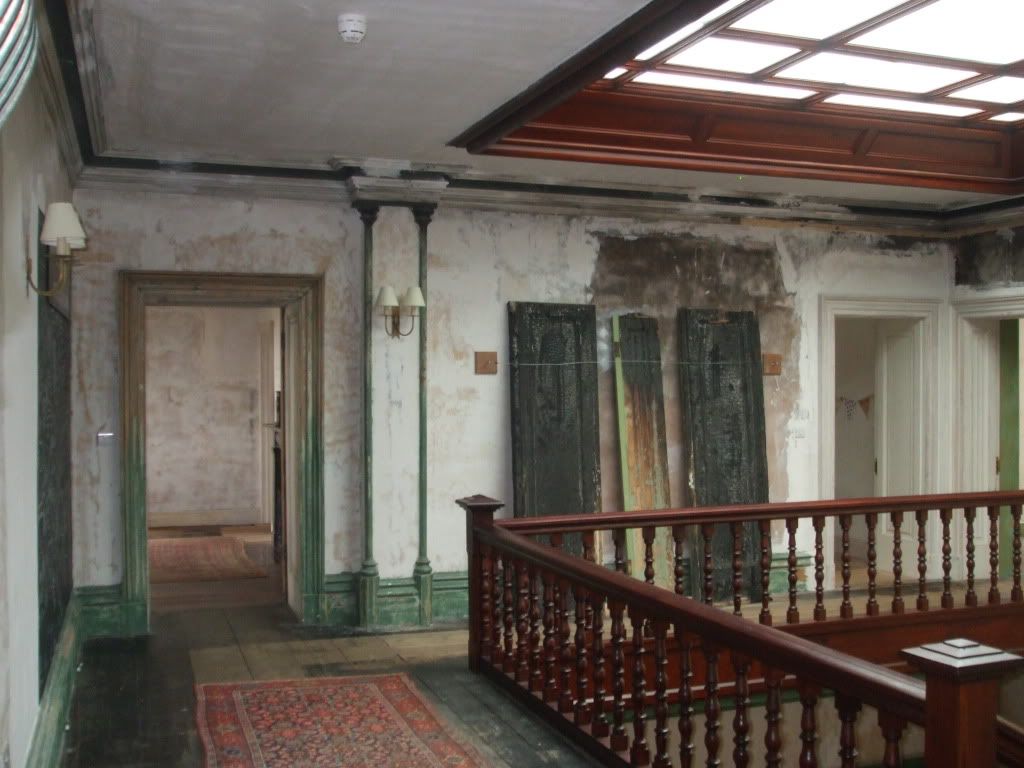 This is, of course, familiar to me. Most of the places I wind up visiting in the line of duty are in an even worse state that this, but the general impression is pretty much the same. Only this sanitised version is minus the sagging ceilings, broken lath-and-plaster work and the odd big squelchy fruiting body of dry rot. Oh, and the smell. Let's not forget the smell. Of dank abandonment and squalor, and the occasional dead pigeon/bat or whatever.
Thankfully, most of the architectural features survived the blaze (note the soot blackening the walls and ceiling!), and many of them appear to be contemporary with the time of the Wordsworths:-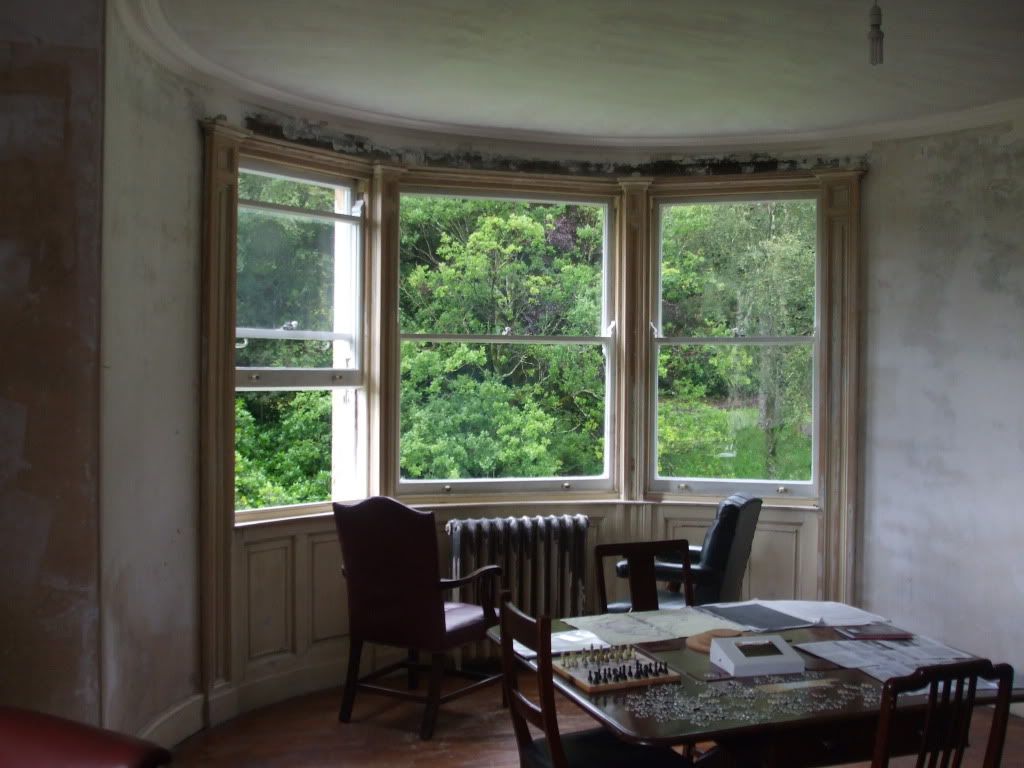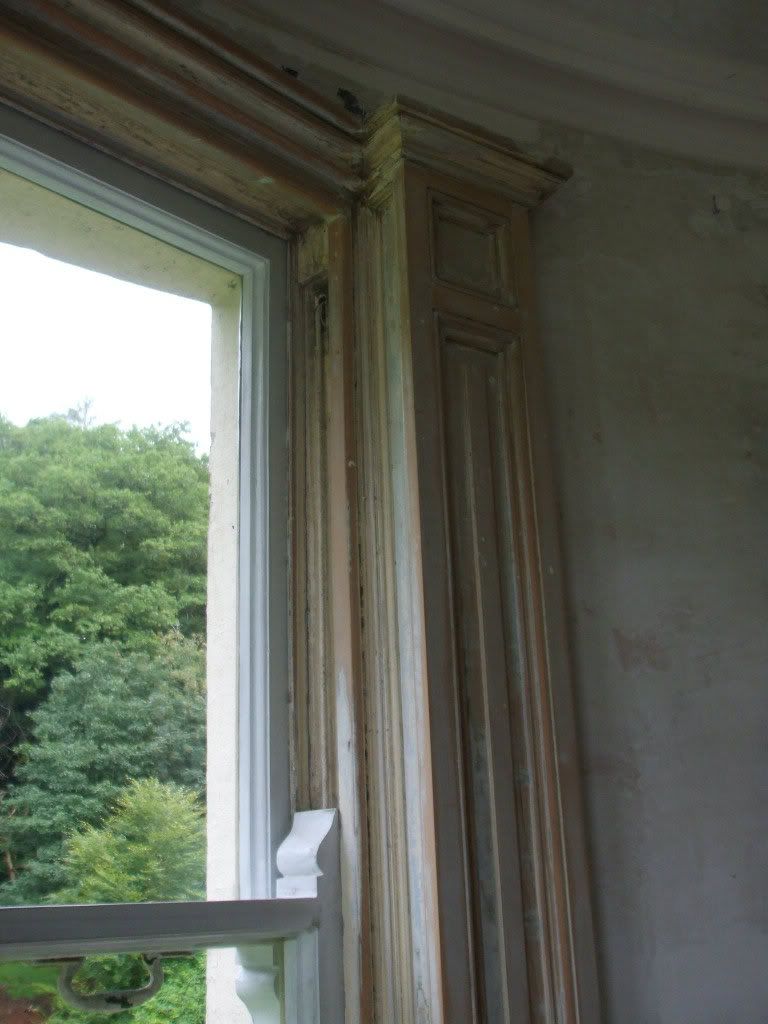 While most of the house is characterised by typical understated Georgian elegance, here and there you can find traces of over-the-top Victorian extravagence. This arch is a case in point, which, combined with a florid cornice and elaborate ceiling rose, suggests that a major revamp took place here later in the nineteenth century:-
The building being in a raw, unfinished state, the National Trust have seized the opportunity to use it as a large scale, mass participation art installation. Visitors are invited to share their thoughts by writing on various boards or even on the bare walls in places (sorry, I just couldn't do that. It just felt wrong, wrong, WRONG!!!). And more often than not, the responses are along similiar lines. Visitors marvel at seeing a building stripped of its soft furnishings and decor, with some of them even asking that it be left this way permanently.
I disagree, of course. To me, this building cries out for deliverance. It's distressed, forlorn, and anxious to be dragged up from this miserable state of neglect and despair. I suspect that the National Trust share my sentiments, and that sooner rather than later, this splendid old house will find itself restored to something approaching its former glory.