There are two classic short walks from Grasmere village which most folk who holiday in the Lakes have done at one time or another. The first takes you to Easdale Tarn, with the second being the walk to Alcock Tarn.
We've been holidaying in Grasmere since 2000 or thereabouts, and - shock, horror!! - this is the first time we've ever been to Alcock Tarn. It's rather intense as short walks go, so it was way down the list in the old days when I was a fledgling walker, and these days, well... We're always trying to do summits, so Alcock Tarn has remained sadly neglected on our itinerary.
But last weekend being very wet, we found an ample opportunity to go exploring on Monday afternoon, when, after a very soggy morning, things began to dry up and we had a few hours to actually DO something!
So Alcock Tarn it was. We had ulterior motives, because the Alcock Tarn route allows access onto Heron Pike, which is one of the peaks in the Fairfield Horseshoe, so in a way this was a reconnaissance trip for more ambitious walks to be undertaken in the future.
It's a very short walk of one and a quarter miles. What they don't tell you on the signposts is that it's an intense one and a quarter miles which goes UP pretty much along the entire route. The path begins in woodland, with scenes reminiscent of Tolkein:-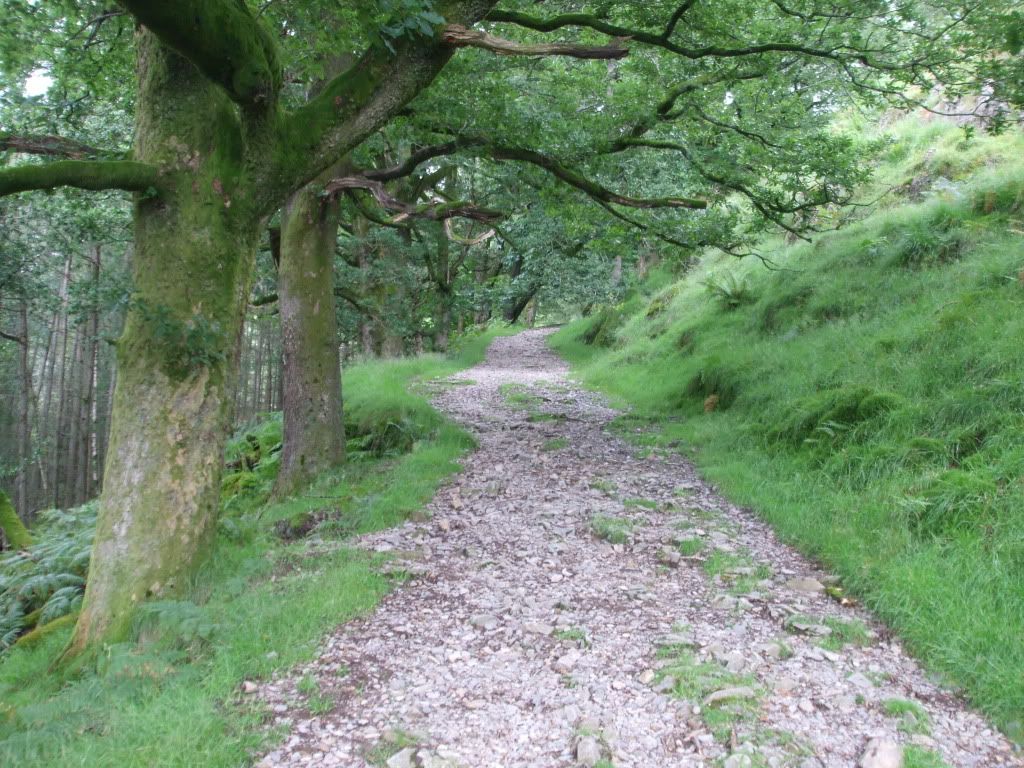 From quite early on, you start to gain a bit of height, and the views are excellent. Here's Helm Crag, with Steel Fell to the right:-
Here's our destination, a little tarn which nestles up at quite a high level. The pointed peak to the rear is Great Rigg, which was the objective of our February walk this year. The disturbance in the water was caused by a very single-minded duck who was swimming purposefully along...
Here's a better view of Great Rigg and the shoulder which leads down to Stone Arthur. The brooding bulk of Helvellyn can be seen in the background:-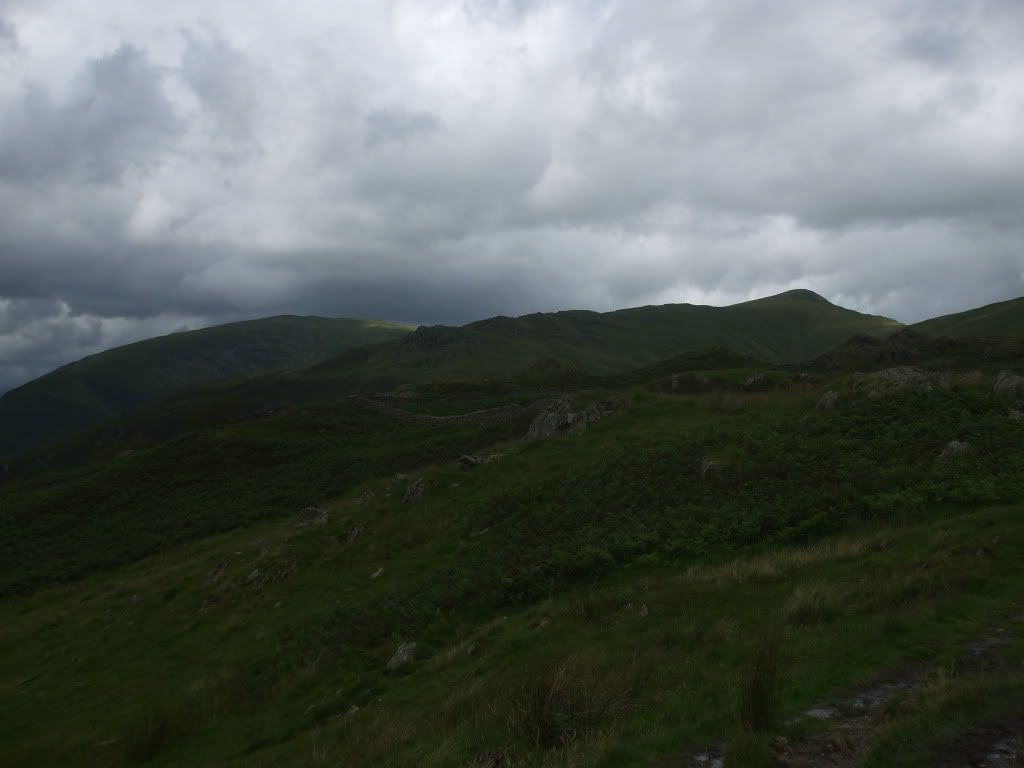 And a better view of Helm Crag in its wider context, bathed in sunlight this time. Sour Milk Gill, the stream which flanks the path to Easdale Tarn, can be seen as a bright white strip above the trees which lie to the left of Helm Crag:-
Being intrepid, we declined to travel back the way we came. Instead, we followed the path as it carried on beyond the tarn. I was hoping I'd get some indication of where we should cut off for Heron Pike, but nothing seemed to jump out at me, unfortunately...

As I'd suspected, the path carried us down the opposite side of the ame burn that we'd followed in our February walk to Great Rigg/Stone Arthur. Here's the 19th century aqueduct, which forms part of the big water transportation systerm which carries drinking water from Thirlmere to Manchester and which I think I featured (from a greater distance) in a February post:-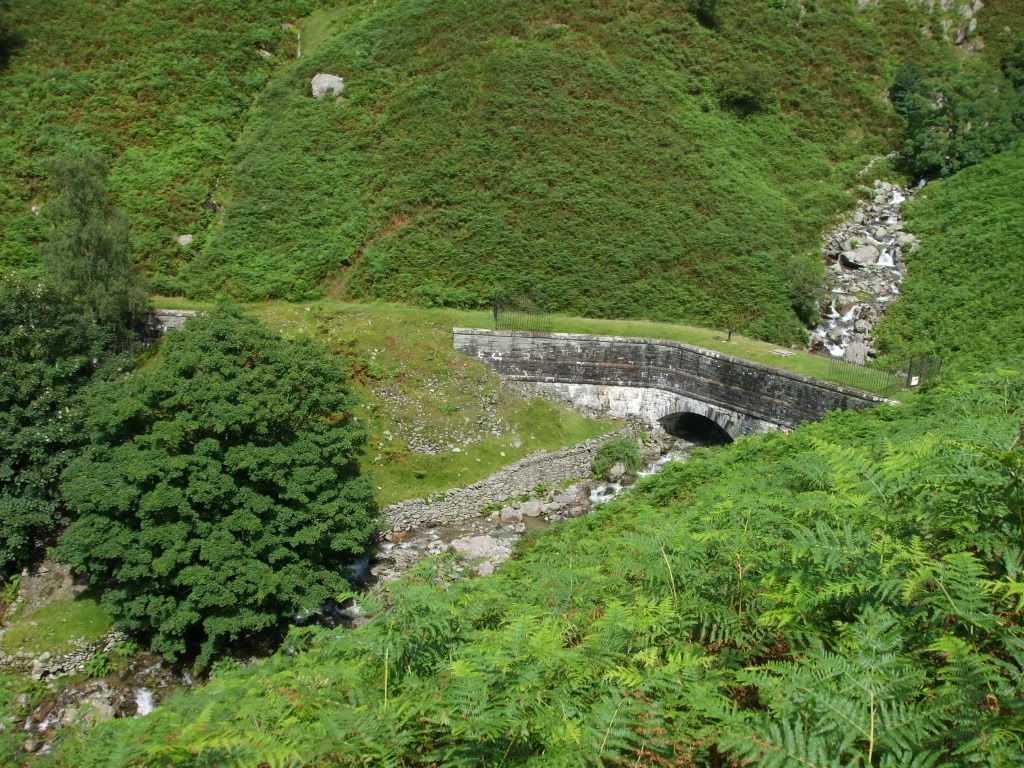 Even though it didn't include a summit, this was a very pleasant walk which took us up to a fairly high level (with all the advantages this brings as far as views are concerned!) and which improved our knowledge and understanding of the walking routes around Grasmere.

Despite being hard work, it was pretty straightforward and very rewarding. If you ever find yourself in Grasmere, and you fancy an introduction to fell walking, it's an ideal place to start!