It's official. The British Summer has been a complete wash-out.
Our weekend in the Lakes was very wet indeed. So wet, in fact, that we didn't actually get out onto the tops. Though we did try.... In fact, I don't think we've had it this wet in the Lake District since December 2009, and we've been there a few times since then, believe me!
The target of the holiday was Ullscarf via the Wythburn (pronounced Wy-burn) valley. Ullscarf itself isn't given a very good write-up by Wainwright, his description, in
The Central Fells
, is as follows:-
'Of the Lakeland Fells over 2,000 feet Ullscarf will generally be adjudged the most central, and it is a pity that Nature has not endowed it with a distinctive superstructure worthy of the honour. If only the crags extended a thousand feet higher, and if only the summit took the shape of a Matterhorn! Instead of which, the top of the fell is the dullest imaginable. The most central, perhaps, but not, alas, a very distinguished pivot!'
Unfortunately, I can't prove or disprove Wainwright's analysis of the summit in question. The weather forecast for Saturday didn't seem too bad, and when we set out, 'showers & sunny spells' seemed to be the order of the day:-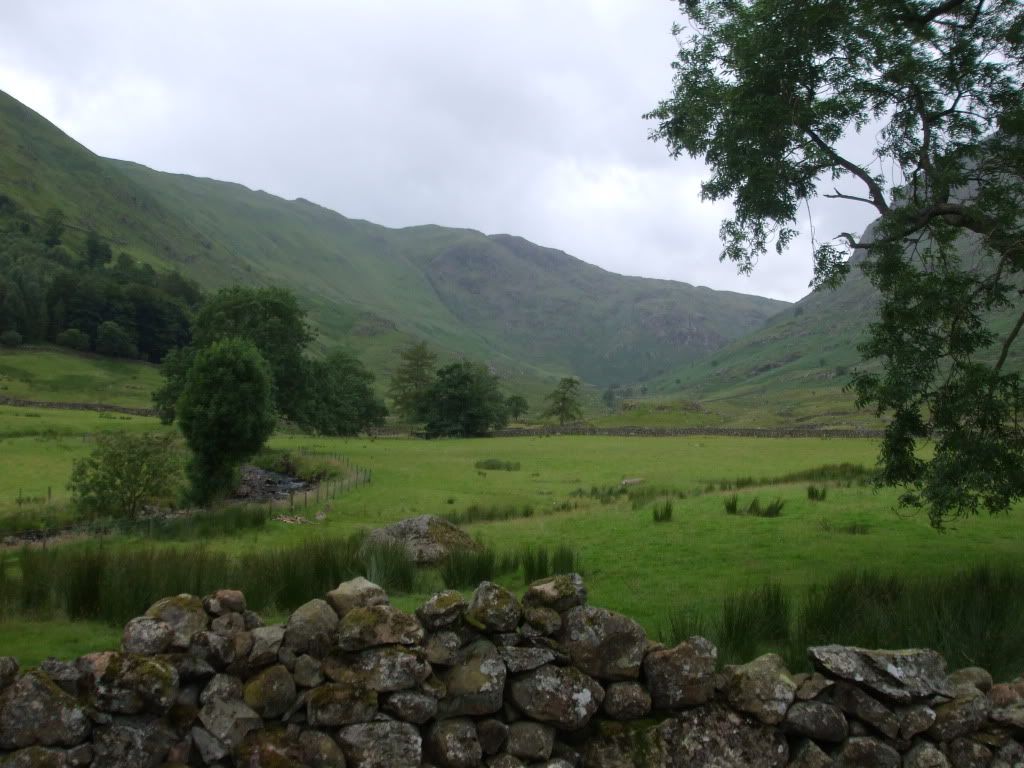 We followed the Wythburn Valley, along a delightful (though rather marshy!) route which proved to be virtually deserted:-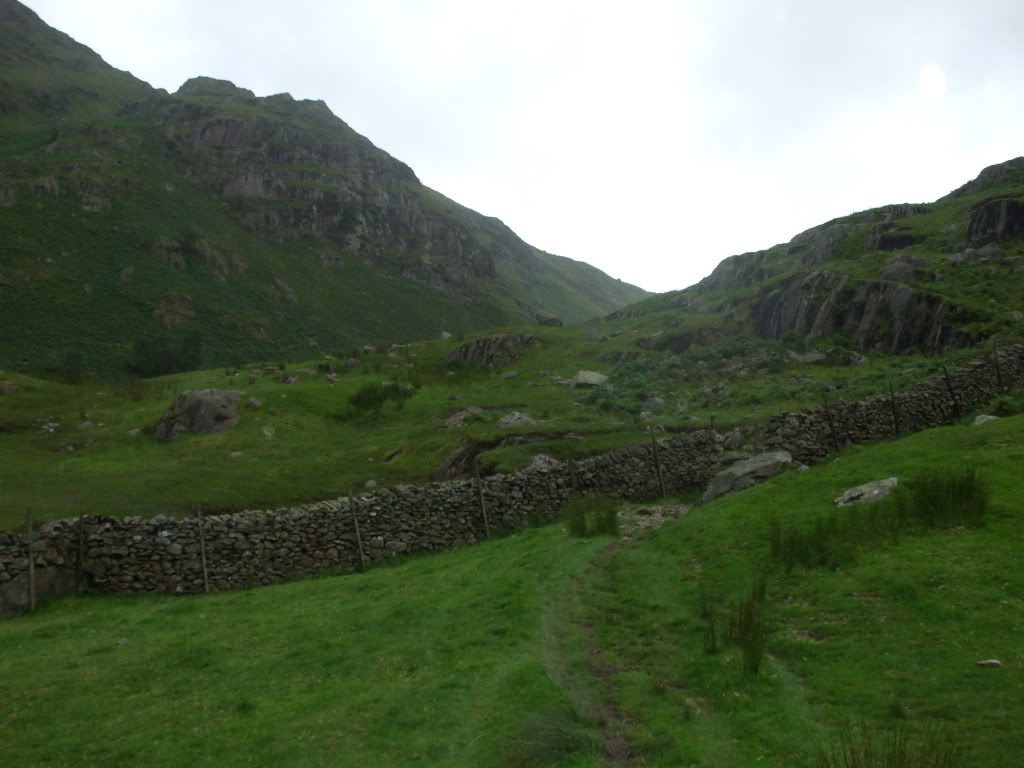 The path skirted this dramatic waterfall:-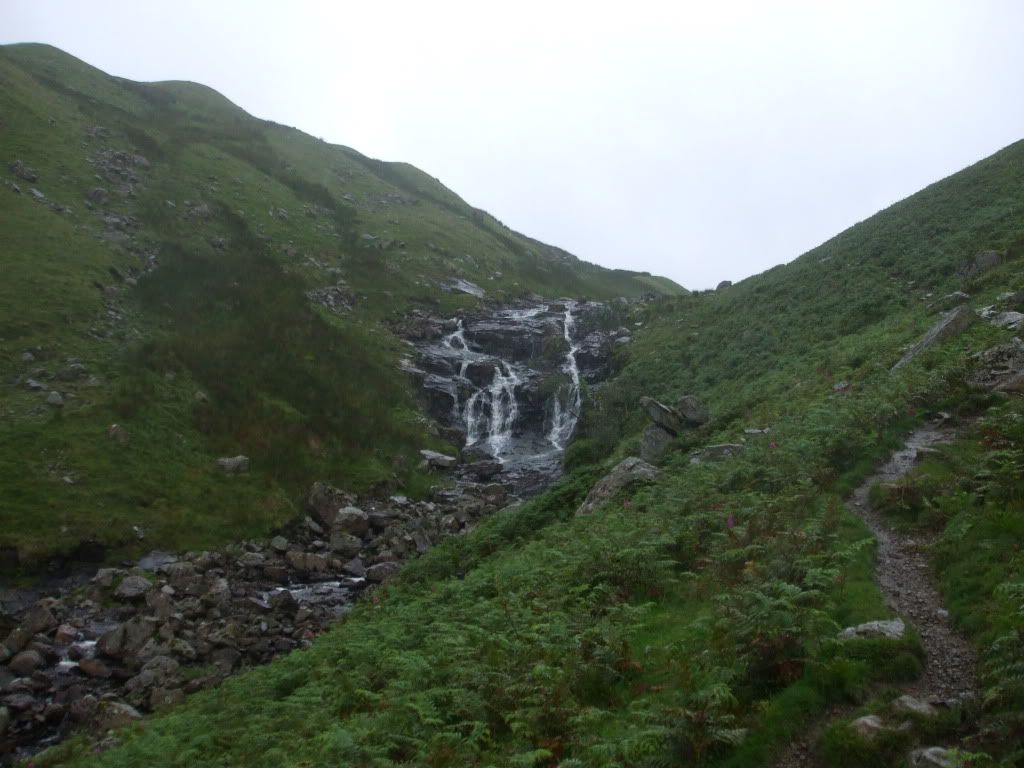 And after that, the terrain flattened out into a geographer's paradise, full of moraines and a wide morass called, appropriately enough, 'The Bog'. (Or, as Wainwright puts it, 'The Bog' (with a capital T & B deservedly)').
The big flat summit to the right with its sloping approach is Ullscarf. We got just beyond the conical mound in the middle of the picture, and by then the 'showers' had become so heavy and prolonged that we were wet through and getting a bit cold. I was willing to plod onwards, but J, in a spectacular display of what I can only describe as 'anti-Spartanism', declared that 'there's no shame in turning back and tackling the summit another day. The shame lies in getting carted off the hill by the mountain rescue'. With about another hour and a half to the summit, I reluctantly conceded, and the retreat was sounded.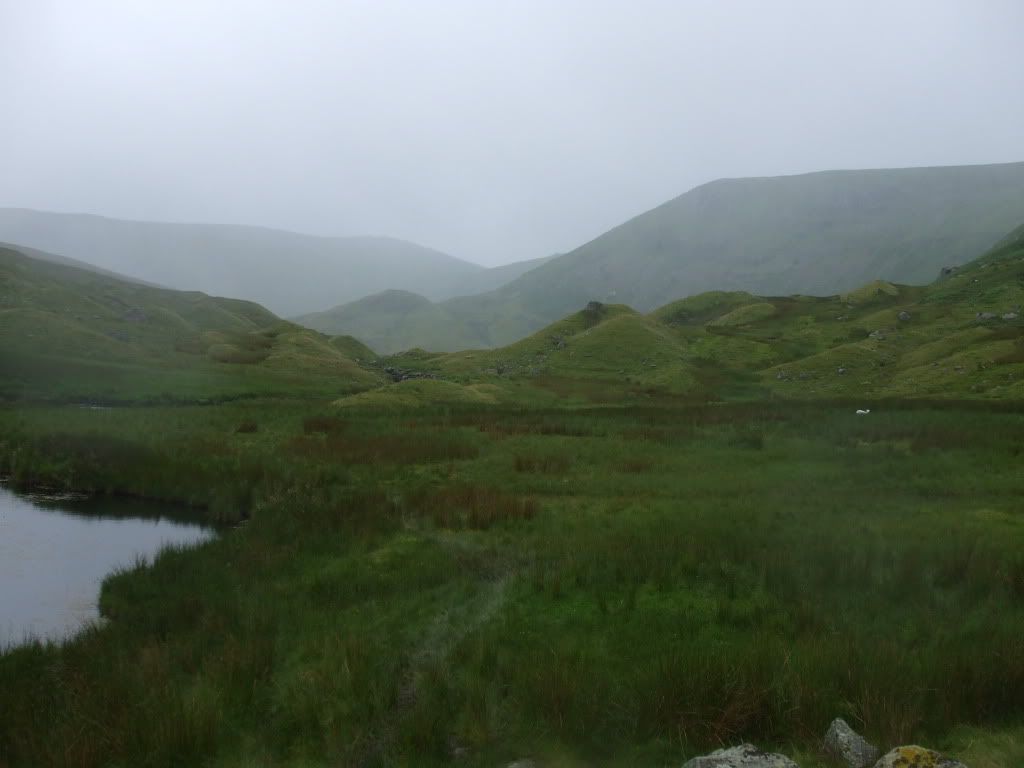 On the way down, we passed this lovely boulder:-
And by the time we descended back to the road, the weather really was closing in. Here's the view towards the lower slopes of Helvellyn during the return journey:-
The right decision was made, I suppose. What's the point of scaling a summit if the views at the top are vague to negligible?? At the very least, it was a good reconnaissance trip, and it's certainly a route I'll want to try again in the future!