A trip off the beaten track now, to the ruined remains of Ardchattan Priory in Argyll...
It's not the easiest of places to find - we had to travel 6 miles round a very circuitous back road in search of it. It's also in the peculiar situation of having a Guardianship Monument tacked onto the side of a private dwelling. Which, incidentally, has opened its gardens to the public, and very, very gorgeous they are, too, as I shall be demonstrating in a later post.
The priory was founded in the 1230s, when it was populated by a house of Valliscaulian monks brought over from France by Duncan MacDougall, Lord of Lorn, probably better known as the builder of Dunstaffnage Castle.
It was extensively rebuilt in the fifteenth century, but monastic life came to an end with the Reformation of 1560. The lands and buildings then passed into the hands of the Campbell family. The church remained in use as the local parish church until 1732, when it was abandoned. Eventually it became ruinous, before its extent was eventually re-used as a burial ground, while a number of the conventual buildings were retained for use as a domestic residence and associated service buildings.
Here's a view of the priory church, looking across towards what was once the nave towards the crossing and the transepts. It's a very odd little building, which I'll be discussing in more detail over the weekend:-
A view down the nave now, showing a respectable selection of burial monuments, including a very nice table tomb...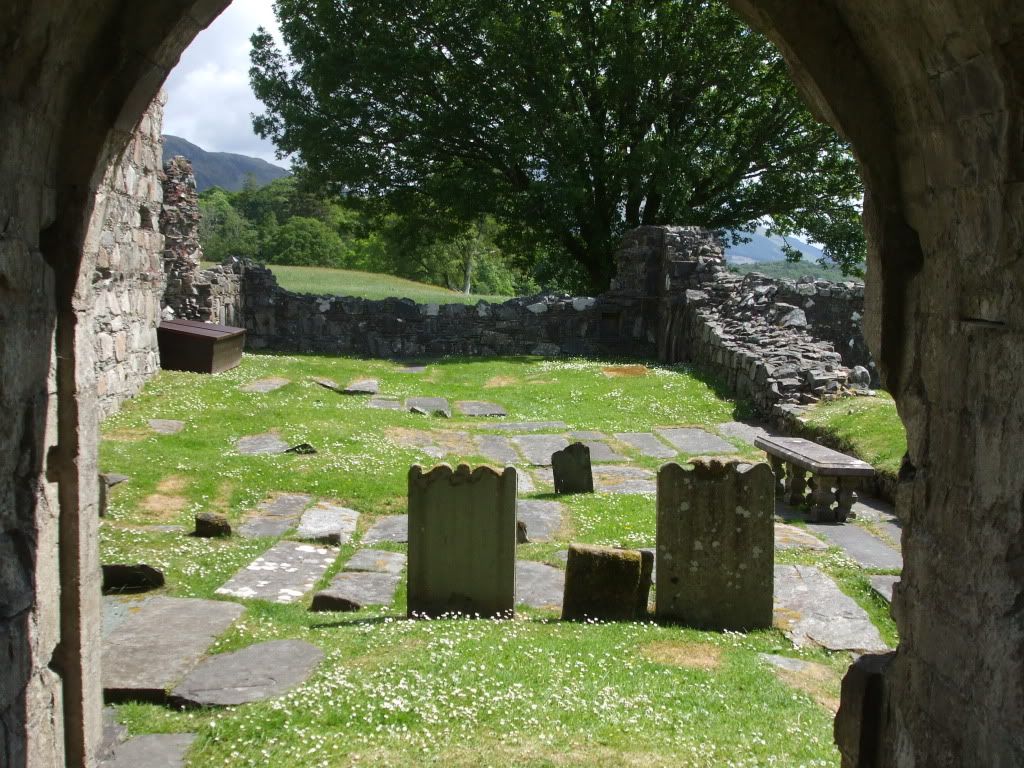 But perhaps the most exciting things to see at Ardchattan Priory are the carved stones, which used to be located within the burial ground. They've since been gathered together in the protective shadow of a shelter, so protecting the rather magnificent carving from further deterioration:-
And once again we'll be seeing some more of these over the coming days...