No doubt you wonder, from time to time, why someone who lives in such a spectacular country as Scotland should spend so much time away from home, virtually ignoring their home territory...
Touring Scotland used to be an annual event for us, but the last few years, we've not had an opportunity to do so. The weather sadly, is an issue, as is the dreaded highland midge. You usually find a perfect window in the year around April or May, when the weather is lovely, and the midges haven't quite woken up yet, and that's regularly been our time to explore our own territory.
Unfortunately, our foreign holidays have fallen neatly into this window for the last couple of years,. April/May's a good time to visit warmer climes, because the weather hasn't got too hot yet, and the mosquitoes haven't started breeding in vast numbers (I HATE mosquitoes!!). Last year, following our return from Sorrento, we'd planned to go to Skye for a long weekend, but the dates we'd pencilled in our trip, the weather up north was terrible, so we headed south instead.
This year couldn't have been more different. A Scottish tour was definitely in order, so we opted for Glencoe, to visit the Lost Valley and
Bidean nam Bien
, and to pay our respects to the victims of yet another infamous episode in the area's history: Colin Campbell of Glenure ('The Red Fox') and James Stewart of Appin (James of the Glen).
Things didn't go according to plan from the outset. A four-car shunt on the A82 meant we were stuck in a vast tailback on our journey north. But the scenery soon turned from picturesque to awesome. We stopped at Loch Lomond for lunch:-
.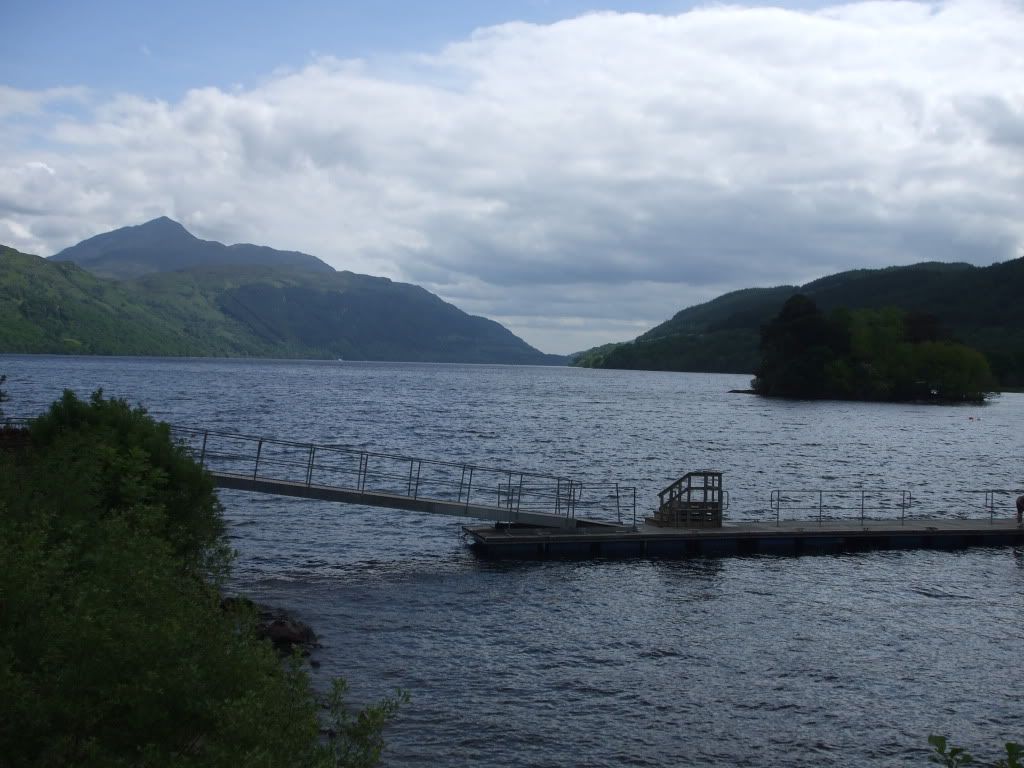 And then we travelled north, past Crianlarich and Tyndrum, past Rannoch Moor and onwards to Glencoe. When we travel south to the Lakes, we invariably listen to Elbow. The Scottish mountains aren't quite familiar enough for that. They need something more theatrical, more grandiose. So as we toured, we listened to Pink Floyd's
A Momentary Lapse of Reason
, and
Ariel
by Kate Bush. These seemed like perfect choices, though I couldn't help casting my mind back twenty years or so, to the day when

treenahasthaal
took me on a drive up through Glencoe. We were taking a rather talented French writer of Star Wars fanfiction on a sightseeing trip to Fort William, and we drove past The Three Sisters in Glencoe to
Some Great Reward
by Depeche Mode.
Small wonder, then, that
Some Great Reward
kept surfacing in my mind from time to time throughout the holiday. Call it nostalgia, if you like, but like
The King of the Mountain
by Kate Bush and
Learning to Fly
by Pink Floyd, it just seems to fit the scenery really well...
Here's the approach to Glencoe, as seen from the road, with the bulky presence of
Buachaille Etive Mor
('The Big Herdsman of Etive') silhouetted in the centre of the picture:-
And the mountains are a constant presence in the village of Glencoe itself (seen beyond a really, really gorgeous garden. The best garden in the village, I'd say. It was to die for!!!)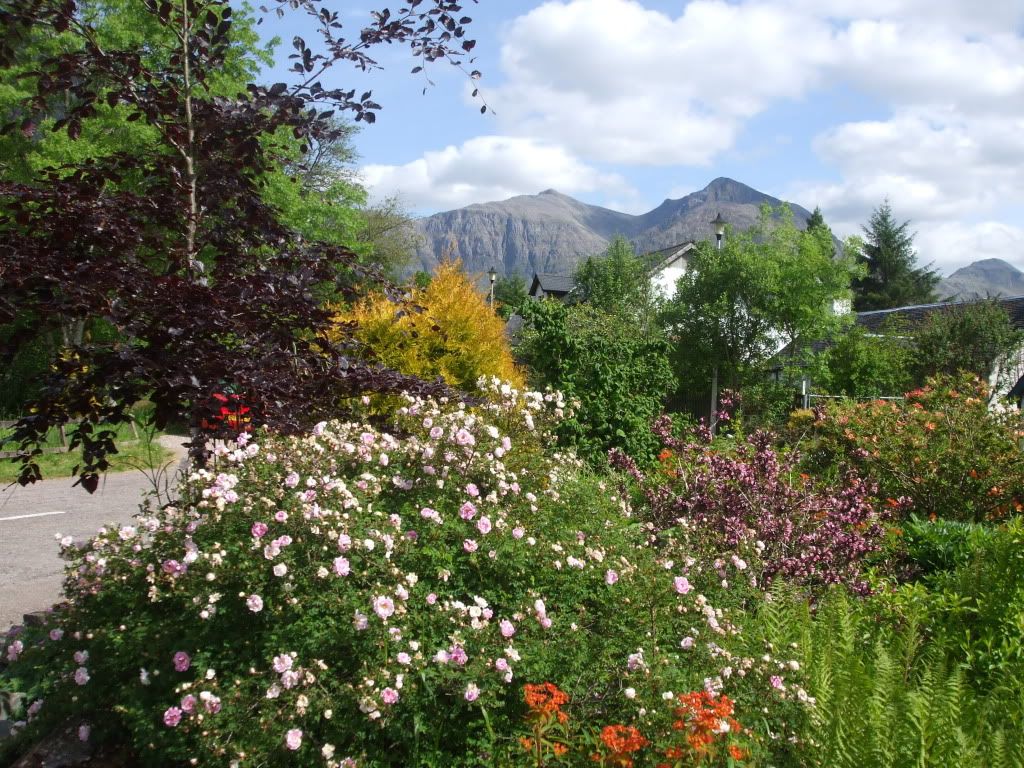 The place was almost fully booked. Only one B & B had vacancies, probably because there were no
en suite
facilities. We weighed up the pros and the cons, and decided almost immediately that the lack of
en suite
facilities was a small price to pay for enjoying the Glencoe peaks in fabulous weather like this. And it turned out that we'd stayed at that same facility on a previous occasion, so it was nice to make a return visit.
A three mile walk up the road took us to the Clachaig Inn, where the meals are hearty and just perfect after a day spent out on the hills. And if you get there in time to bag a seat by the window in the lounge, this is the kind of thing you're forced to look at. And yes, this was part of the group of summits I was hoping to visit during the walk, though
Bidean Nam Bien
itself isn't visible from the road...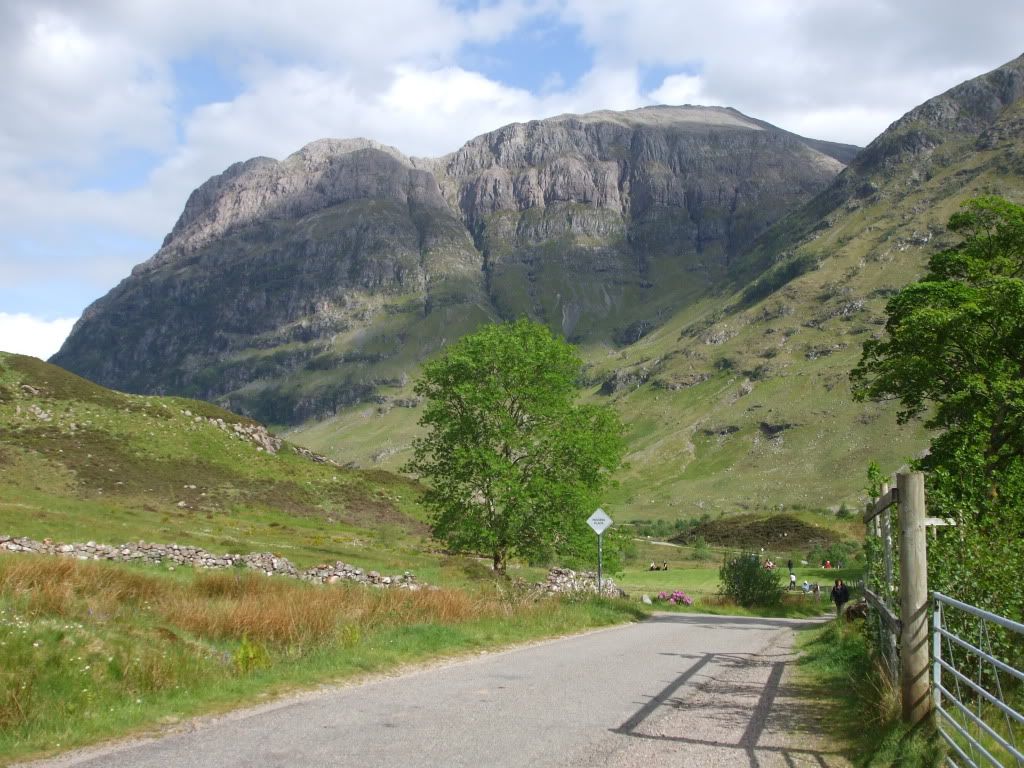 The walk was an adventure in itself. We didn't get to the summit, but it was still the hardest walk I've ever done in my life (and one of the three most arduous physical escapades I've undertaken, too. Surpassed only by my first and only cycling road race, and a 140+ km Audax called
Ivy's Doune Dash
which involved cycling over a hurrendous pass in the Campsie Fells called The Crow Road...) Three days later, I was still waddling like a penguin because my legs were so sore!!
We travelled home on the Argyll Coastal Route, which took in such sights as Castle Stalker:-
The aim had been to spend the final night on the island of Seil, but a lack of accomodation forced us to look elsewhere. We eventually ended up at Loch Melfort, where I managed to sniff out the ruined remains of a gunpowder mill.
Well, I had to find some industrial archaeology somewhere, didn't I?
And tomorrow, we'll visit the Lost Valley...