I've been in awe of Helvellyn ever since I started walking in the Lake District. By Scottish standards, it's not a BIG mountain, though at 3118 feet, it easily falls into our Munro category. It is, however, the third highest mountain in England, and it's not exactly a pussy-cat. It claims victims on a semi-frequent basis, and should not be approached lightly, particularly in winter.
I came across one of its more celebrated victims in a fascinating book called The Unfortunate Tourist of Helvellyn.' I've mentioned him before: Mr Charles Gough, who fell to his death one April day in 1805 and whose shattered corpse was only found a few months later. His faithful dog was allegedly found by his body, and being an artist, he was carrying his tinted Claude glasses when he plunged to his death, perhaps from the infamous Striding Edge...
As I scaled Helvellyn on Saturday, I thought of Mr Gough, who is commemorated by a monument on the summit. There were certain parallels between myself and Mr Gough. though instead of a faithful dog, I had a soft tiger in my daysack (he's climbed three Wainwrights now, which is quite impressive, for a cuddly toy!), and I was also carrying a modern equivalent of the Claude glasses, my digital camera.
It was here, I hoped, that the similarities would end. Though one of my aims for the day was to visit his monument, so I could pay my respects in person.
This is what Alfred Wainwright had to say about Helvellyn:-
'Legend and poetry, a lovely name and a lofty altitude combine to encompass Helvellyn in an aura of romance; and thousands of pilgrims, aided by its easy accessibility, are attracted to its summit every year.... There is some quality about Helvellyn which endears it in the memory of most people who have stood on its breezy top; although it can be a grim place indeed on a wild night, it is, as a rule, a very friendly giant. If it did not inspire affection would its devotees return to it so often?' (
A Pictorial Guide to the Eastern Fells, Book One: The Central Fells
)
I can't really disagree with Wainwright's description, though on the day we climbed it, Helvellyn's summit was not exactly 'breezy'. J's description - 'tempestuous' - was somewhat closer to the mark, though you'd never believe it from the photographs...
We climbed the mountain from Wythburn, on the western side. Wainwright describes it as 'one of the most popular ways up Helvellyn', but things have changed since Wainwright's day. On a marvellous May morning, the route was almost deserted: we met about a dozen folk during our walk. Striding Edge, by contrast, the 'unusual' and undoubtedly spectacular route recommended by Wainwright himself, was like a conveyor belt, with an endless queue of walkers trailing along it.
And now to the walk...
We began at Wythburn Church, which undoubtedly merits a closer look, so I'll have to try and explore it again at a later date:-
Helvellyn is a spectacular mountain, but ehe views aren't as fine on the western flanks. In fact, the mountain itself is a featureless bulky mass, as if it crouches down with its back to Thirlmere, Grasmere and Wythburn. But as we climbed higher, we got spectacular views of Thirlmere and the western fells:-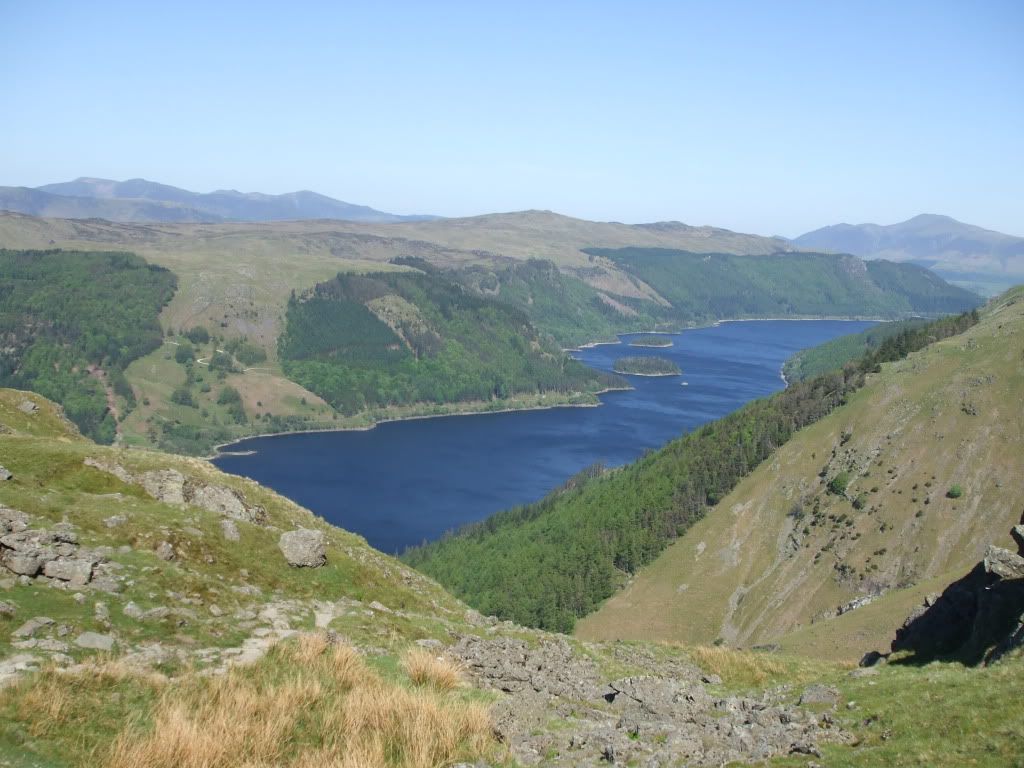 I even stumbled across some archaeology: in the picture below, the pile of stones represents the footings of a rectangular bothy or hut:-

The first part of the climb was very steep, but eventually, it levelled out into this winding path (buffeted by the most horrible winds, which, of course, cannot be depicted pictorially...):-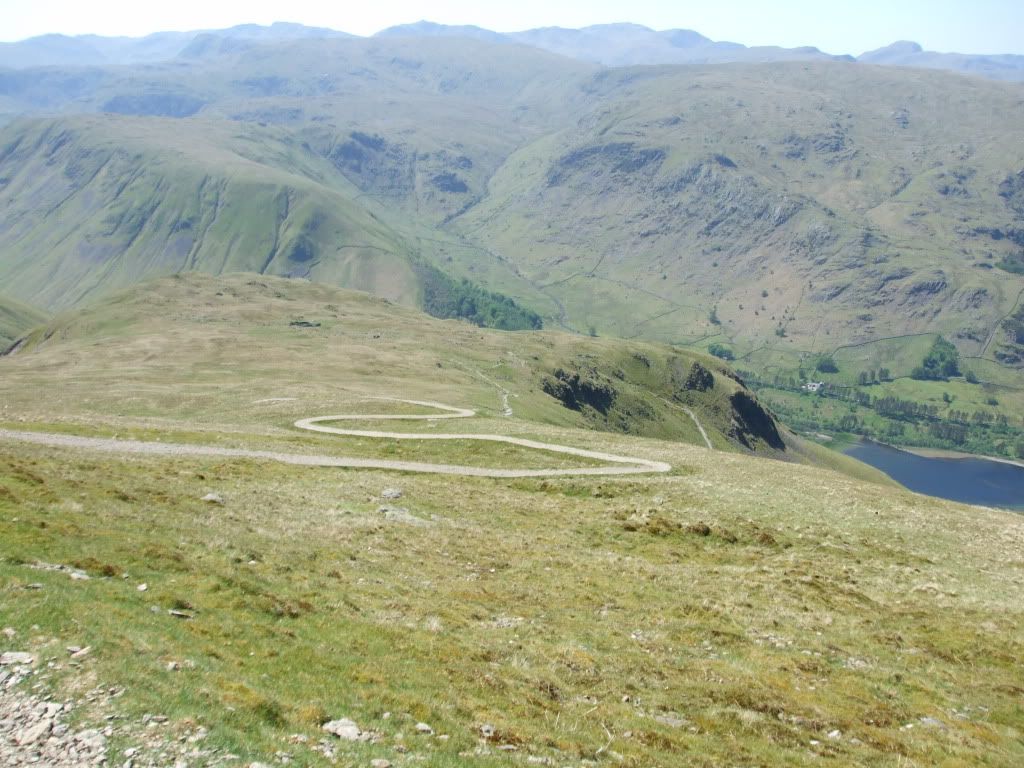 And in the background, we see Steel Fell to the left, which was a target of our walk in February 2010, and which looks almost miniscule from this height. Beyond Steel Fell, we can see the outlines of Harrison Stickle and High Raise.

And at last, we could see the summit. Which deserves a post in its own right, so I'll be continuing the tale tomorrow!