Could somebody please explain where the day actually went???
We took a leisurely stroll round the village this morning, then went out to the the nursery at Uplawmoor to buy some plants for one of J's gardening clients before heading to our usual cafe at Lochwinnoch for lunch. I rather hopefully embarked on the trip with the intention of buying 'a couple of nemesia for the patio pots.'
Oh dear. It's not for no reason that I say that plants are to me as shoes were to Imedla Marcos. I got my
nemesia
alright - a dozen in total, plus some bright red
verbena
and some pink and white
verbena
. Then I wandered around the nursery in a complete daze, wondering whether I'd died and gone to Heaven. Or was it Hell... Those of you who like your gardens, imagine if you will a garden centre, which has polytunnel after polytunnel after polytunnel, stretching as far as the eye can see. There's a whole polytunnel devoted to paeonies... A whole polytunnel devoted to hostas...
Etcetera
...
Yes, you get the picture.
We were hunting for
coreopsis
and
geum
. We got the
geum
, but oddly enough, the one thing they didn't seem to have was the
coreopsis
. They did, however, have four varieties of brunnera. And so, since I'm a sucker for impulse buying, I thought I'd give
Brunerra
'Jack Frost' another go.
This is the third time I've tried to establish a Jack Frost. On both previous occasions, the slugs and snails munched at those pretty, succulent leaves faster than the poor plant could grow them. The plants, on both occasions, were youngsters bought from mail order companies. So I'm hoping that buying a fully established mature plant will mean it gets enough of a head start to beat the beasties.
I have my doubts, however. My 'Dawson's White', which I bought a few months previously, is looking positively moth-eaten already...
Anywhere, here - for your delectation - is a pristine, lovely
Brunnera '
Jack Frost', free of slug holes and snail-munching perforations. [And, in case you're wondering, the white container in the top left hand corner is a slug pub...]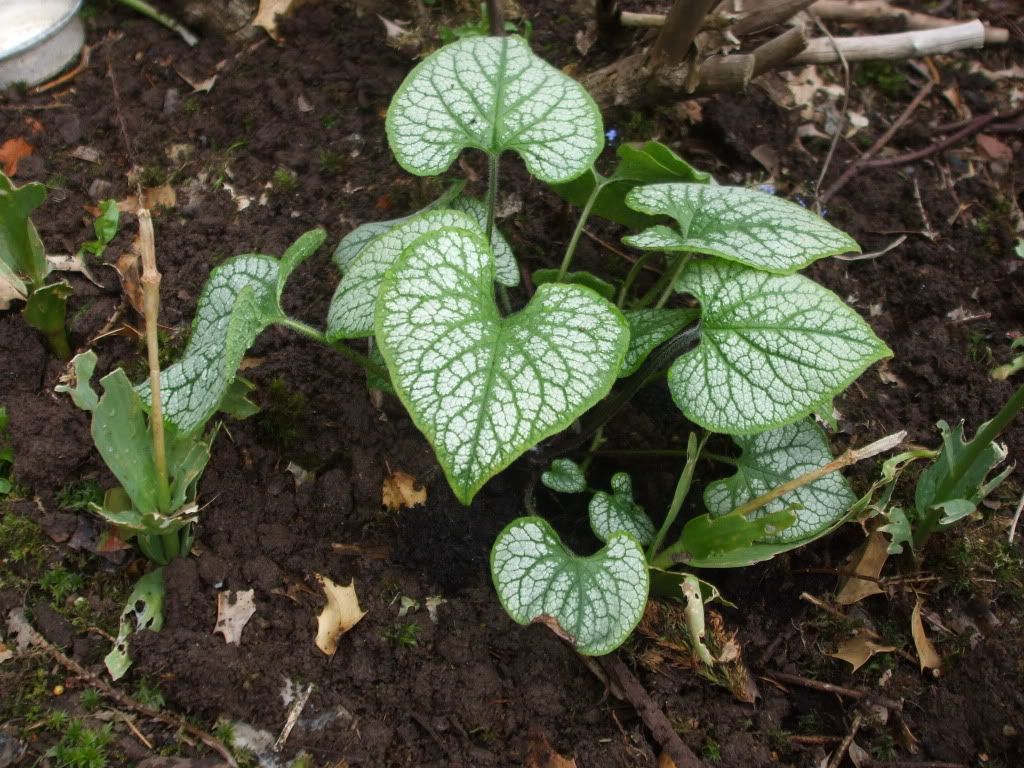 Stepping back a bit, the
brunnera
effect can be seen properly. In the foreground is my well-established
brunnera (
which I think was a 'Looking Glass' which when it got established didn't look anything like how it was supposed to, but never mind. I still love it!!). 'Jack Frost' is in the middle and 'Dawson's White' to the rear. The miserable-looking laurel may not survive much longer (J is threatening it with destruction if it doesn't pull its metaphorical socks up) and the twiggy mess to the right is an unknown plant which we call George (the Bush...) because of its expansionist and imperialistic tendencies:-
Stepping back further, the full effect can be seen, with Rhododendron 'Hoppy' and Cousin It (a weeping silver pear) forming a backdrop. We used to have a beautiful dark red broom bush in that area, but it didn't last very long, and we haven't replaced it. Yet. Something's going to have to replace George, though, who (or which) has achieved the dubious accolade of being the only plant in the garden that has been subjected to weedkiller in order to get rid of it. Yes, we loathe it that much. I tried to dig it up, five or six years ago, and it defeated me. All in all, it's such an obnoxious customer that it requires a draconian treatment...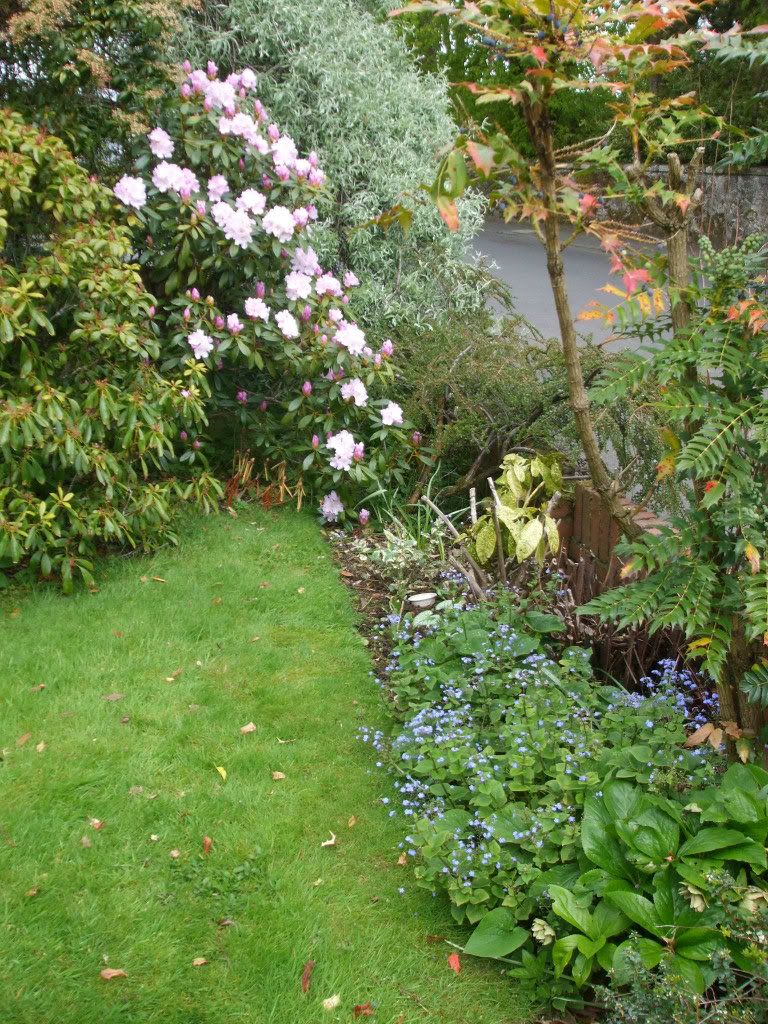 The other rhododendron in the garden is
Rhododendron
'Dreamtime'. Of course, it would have been looking a whole lot better if the fence had still been concealed beneath the vast expanse of
clematis montana
which used to grow here, but our wretched neighbour put an end to that, didn't they? Grrrrr...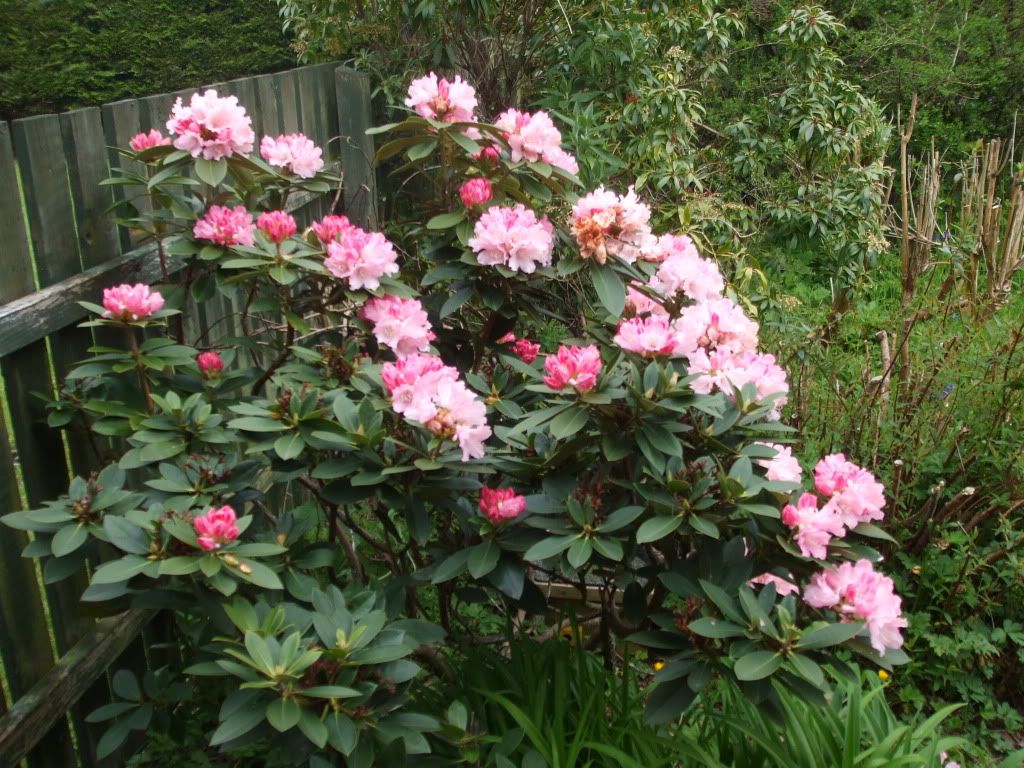 I also created another pot today. I'd bought a new plant today - a
heliotrope
- because I thought it looked stunning and wanted to give it a try. So I built the pot up around this new acquisition, adding a few
nemesia
and a
bacopa
and a purple
calibrachoa
for good measure:-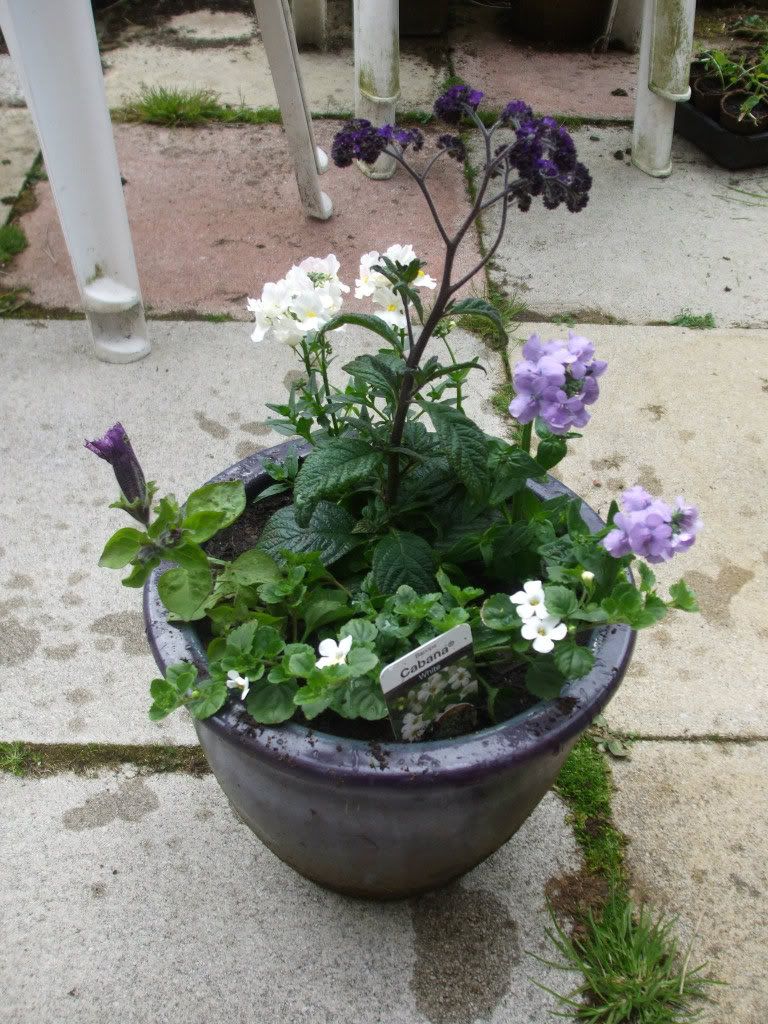 The only thing I can't get across in the photograph is the smell. Because nemesia smell divine, which means that I can now sit out on my patio happy in the knowledge that I can close my eyes and wallow in the scent of nemesia blosson. Okay, so the patio's still a complete mess, but it's getting there, at least.

Though I'm told there may be yet another frost tonight. Ulp!!!