Oh dear. I had lots of photos to post today, but Photobucket is proving troublesome, so I guess they'll have to wait. In the meantime, I felt I just had to mention that I'm awfully fond of Dvorak. When I went into work this morning, I found a couple of packages waiting for me. We should quietly gloss over one [okay, so it was the
Jurassic Park
Trilogy on DVD? I'm not ashamed, really. I mean, Bob Peck, Pete Possilthwaite, Velociraptors, what's NOT to love???] and concentrate on the other: the
Complete Dvorak Slavonic Dances
, played by the inimitable RSNO and conducted by the equally inimitable Neeme Jarvie...
I have fond memories of various
Slavonic Dances
through playing them in various youth orchestras - they were often whisked out as an encore. I was a major SNO/RSNO groupie in my youth, and one of my French horn tutors from those good old days now plays in the RSNO. Maybe this means I'm a little biased with regards to the quality of the recording, but it certainly seems to be a good 'un...
I digress. I was going to dedicate a couple of posts to the medieval churches which can be found in
La Bastide de Saint Louis
, but with Photobucket being so awkward, I'm going to make today's post an introductory one.
The photograph below is a view of the
bourg
, as seen from the nearby medieval walled city. If you look carefully, you will see two churches. One is located at the right hand side of the image, and it can be identified by its HUGE tower. The other is much more difficult to see, but if you follow the line of the tree-lined road which runs diagonally up the photograph from right to left slightly to the left of the church tower I mentioned previously, then you SHOULD see a big white square which is, I think, the other church, currently shrouded in plastic sheeting because it's undergoing a major restoration.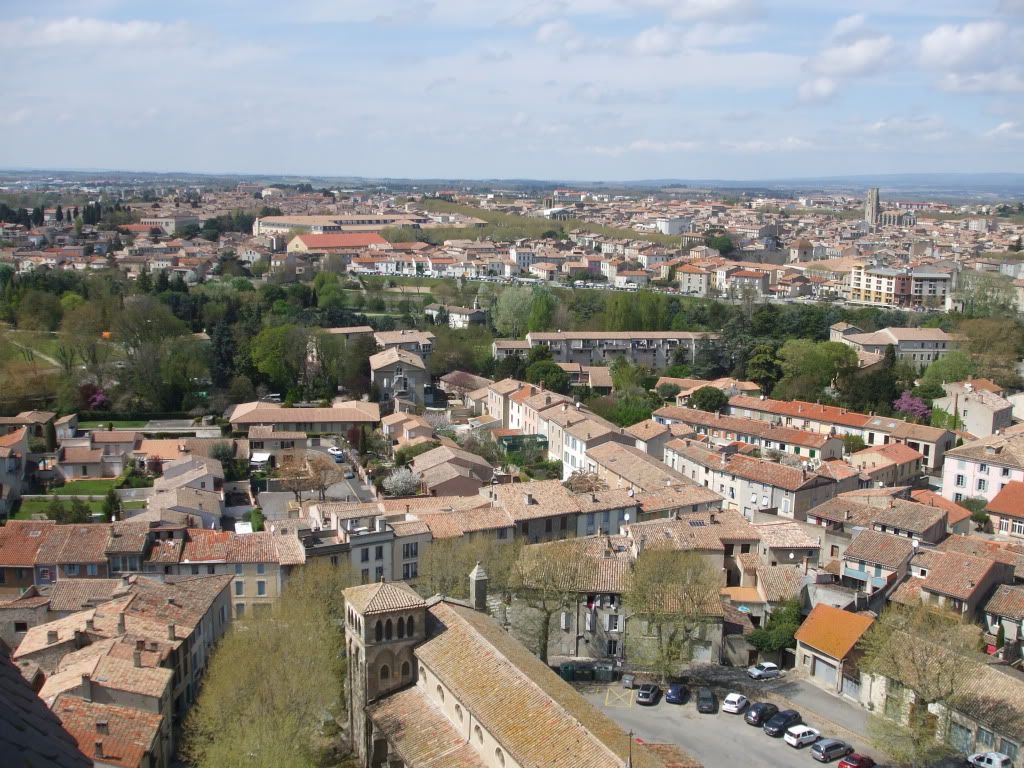 These are the two churches I'll be talking about over the next couple of days. The first - and from this distance, the most imposing - is the Church of Saint Vincent, and the second, the Cathedral of Saint Michael.

I shall be featuring the Church of Saint Vincent first of all, and true to form, I shall be reinventing the architectural wheel by figuring out the regional church architecture through a series of insightful observations. No doubt any architectural historians who specialise in church architecture who stumble across this blog will tut and mutter that really I should stick to my day job,,, Perhaps I should, but this is more fun!

Though perhaps it's the equivalent of stomping all over the sandcastles in someone else's sandbox...