Continuing on from yesterday's post....
Some more examples of early medieval art from Scotland now, and some more of the artefacts that are housed in the museum there - the carved stone repository to end all carved stone repositories!!
One of the nice traditional 'Celtic' crosses now. And because I'm not much of a carved stone expert, I'm going to have to resort to information gleaned from my helpful handbook to Saint Andrews Cathedral, the Historic Scotland guidebook 'Saint Andrews Cathedral' by the one and only Richard Fawcett, who was talking about this very subject at the University's 600th anniversary conference a few weeks back...
According to Fawcett, this cross-slab is of ninth or tenth century date, and probably once functioned as a memorial to one of the monastic community that lived here at this time. It features the obligatory 'Celtic interlace' type decoration, and is very handsome:-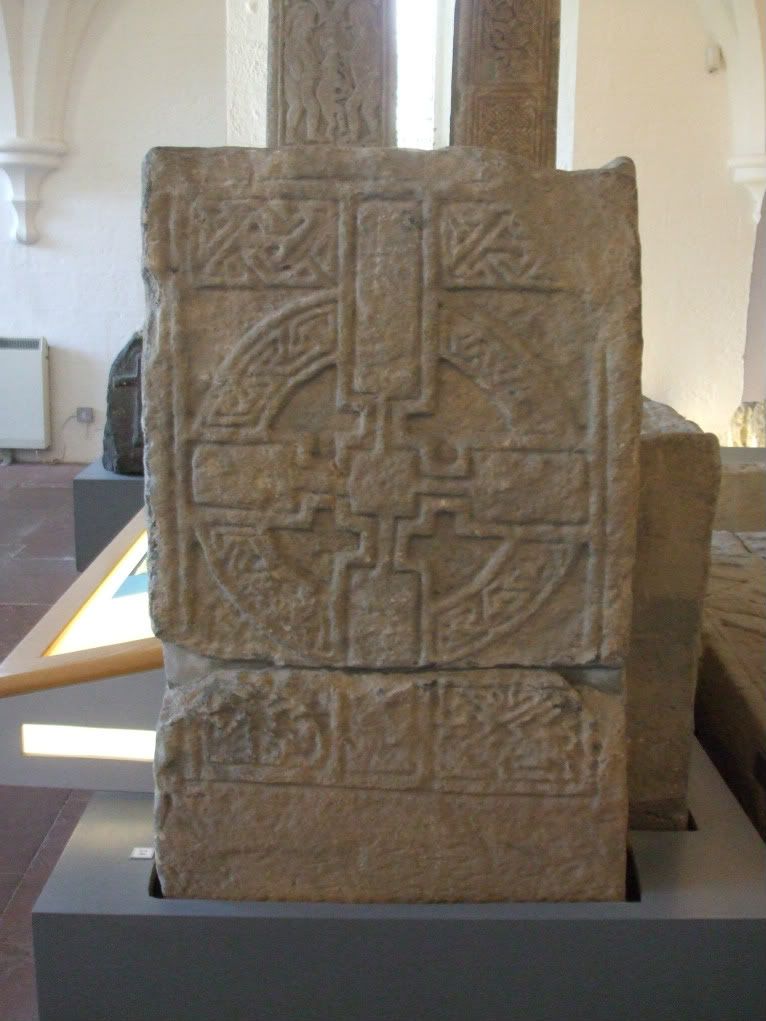 Two free-standing cross-shafts now, again copiously decorated. Once again, they're roughly contemporary with the St Andrews Sarcophagus and the cross-slab featured above, dating to the later ninth century. These crosses would originally have been used to mark the boundaries of the monastic precinct, and they were accompanied by similar examples which were later broken up and incorporated into the medieval structure. Is this the re-use of useful building material, or is it the appropriation of earlier 'sacred' material as a means of legitimising the medieval cathedral by providing a physical and tangible link with the religious origins of the site?
Discuss....