I got back to work today, and found myself deluged... I'm being hassled over fieldwork requirements for the Fife designed landscape, I'm behind on generating the costings for the munitions factory, and I'm completely bogged down in finishing my three papers... And I go on annual leave next week...
I ALMOST finished off my major Thomas Telford paper today. I've tweaked the text and added a few more references in response to last week's library trawl, and now all that's required is to finish off the footnotes and make sure everything's in order with them. Most decent journals, you see, do not allow the use of automatically generated footnotes...
Meanwhile, The Great Surveyor and The Boss have - between them - halved the size of my lesser Telford paper, and The Boss has finished off another paper which also needs to be sent off this week which I'll be editing tomorrow...
So it's all go...
Back to Saint Andrews now, and a post dedicated to the chapter-house and cloisters. Because Saint Andrews had its own community of Augustinian canons, which means that it has all those ancillary structures which are common to monastic sites...
There's not much left of the chapter-house, which would have been a magnificent building in its day. Now, this row of blind arcading looks like it ought to be part of the chapter-house:-
But when you look at the photo below, you can see the footings of the wall which divides the chapter-house with the adjacent corridor or slype. The arcading seems to be associated with the slype, and the upper row of arcading indicates that there was an upper floor, perhaps the monk's dormitory or another domestic building:-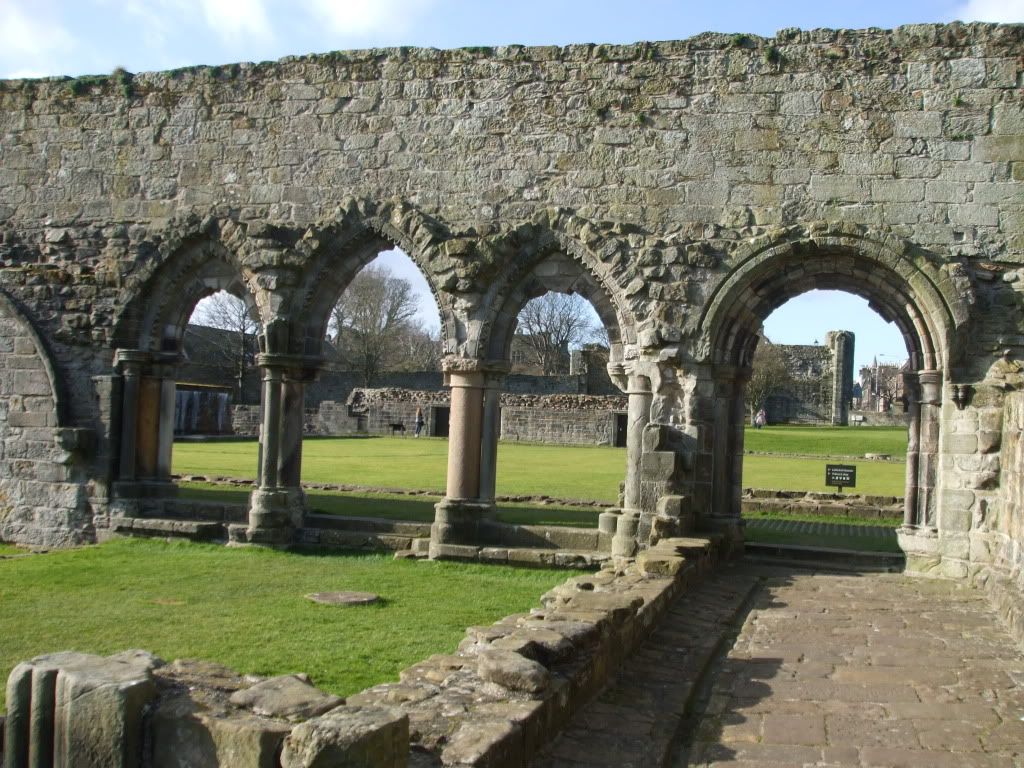 When you step through into the cloisters, another impressive doorway (Romanesque in style) leads through into the nave of the abbey church:-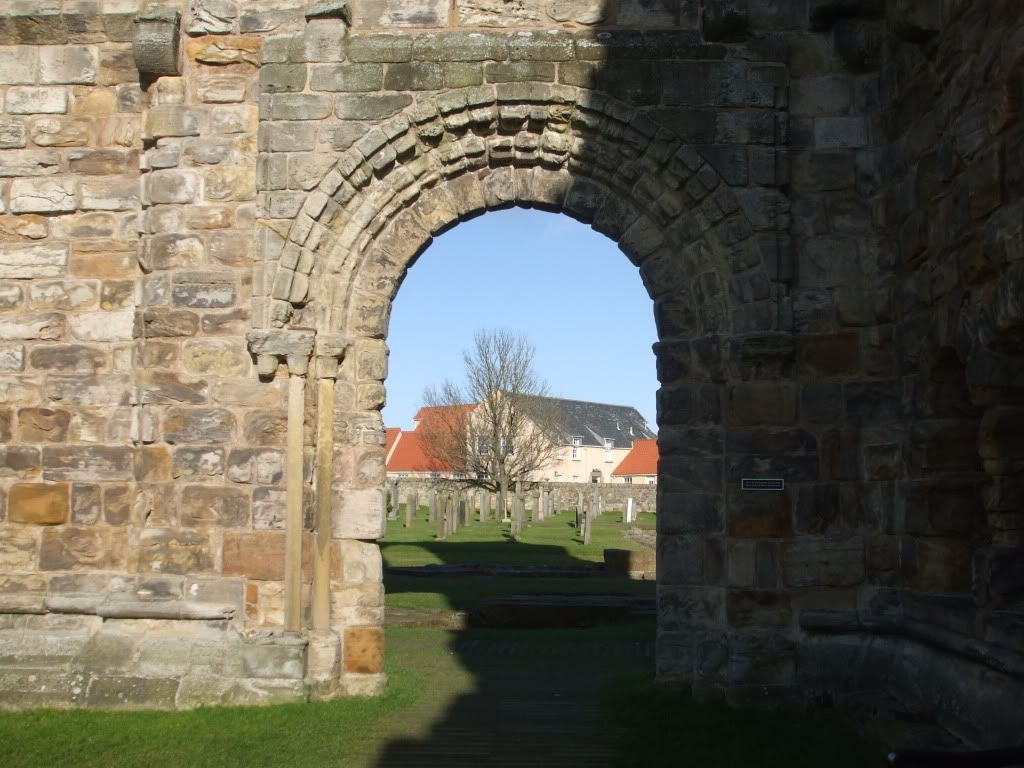 And tomorrow, I'll take a step back in time to the early medieval period, and introduce you to something truly special and spectacular, and something which is perhaps slightly off the beaten track of history...

I should've been horse-riding tonight, but my concerned colleagues talked me out of it, in advice which ran along the lines of, "What??? ARE YOU CRAZY?? You're half-dead!! You can't do that!!"

And I listened to them. I could've been enjoying a nice early evening hack in the sunshine, but I turned it down, because I had a sudden flash of complete and utter sanity.

So I watched The One Show instead. And heard this, or something similar: 'And tomorrow we're going to raise a glass to Rory McGrath, who managed to turn a whole archaeological series into one giant pub crawl..'

Your point, caller?? Why is this in any way surprising?? Archaeologists & pub crawls go together like Howard Carter & Tutankhamum, or Indiana Jones and that battered fedora...