And they call it weeding the herbaceous borders...
Yes, I know I've been promising you the Saint Andrews posts for ages, but once again I've been distracted.
It's a beautiful day today. Warm, blue skies, and just lovely. I've spending a lot of time in the garden , so I thought I'd share some news and some photos.
I continued my onslaught on the front flower bed this morning, and left a trail of destruction in my wake. My loyal and dependable Lavender Munstead - last survivor of five - had to be pulled up, unfortunately. It's been getting poorlier and poorlier through the years, and sadly, it didn't make it through the winter. I now have a big gaping void in the front bed...
Now, I'm swithering as to whether I should replace the lavender, or buy a new Old English rose to fill the void. I originally bought the lavender bushes to plant between the roses, as a deterrent against aphids. These days (as a later photograph will show!) I'm not convinced I need them, In the bad old days, we were so beset by aphids that we actually resorted to insectides. But it's been six or seven years since then, and now such draconian remedies are not required.
I've got a couple of nasturtiums showing their heads in the seed tray already, which is great, and I've planted up another begonia and a couple more geraniums, which arrived this morning from the Vernon Geranium Co. These are single plants of the varieties 'Paton's Unique' and 'Vectis Glitter'. One of them suffered badly in the post, with a lot of displaced compost, and it's looking a bit 'wabbit'. Hopefully, it'll pull through now it's potted on. And eegit-here forgot to label them before chucking the boxes out, so I haven't a clue which one's which! Ooops!!!
I've been neglecting my penstemon cuttings - I'd just assumed they'd all died, and I really haven't been feeling up to checking them just recently. But J informed me that one had masses of roots, so I finally got round to checking them over and discovered that three had actually survived my evil neglect and did indeed have roots. Hopefully, these little guys will have been so toughened up by this spell in the 'plant-agoge' that they will be super-strong! They have now been potted on, I hasten to add!
It's time for photos, now. And because Wales are playing France for the Grand Slam today, the emphasis is going to be on the noble daffodil. Here's the big flower bed by the drive, which is full of daffs:-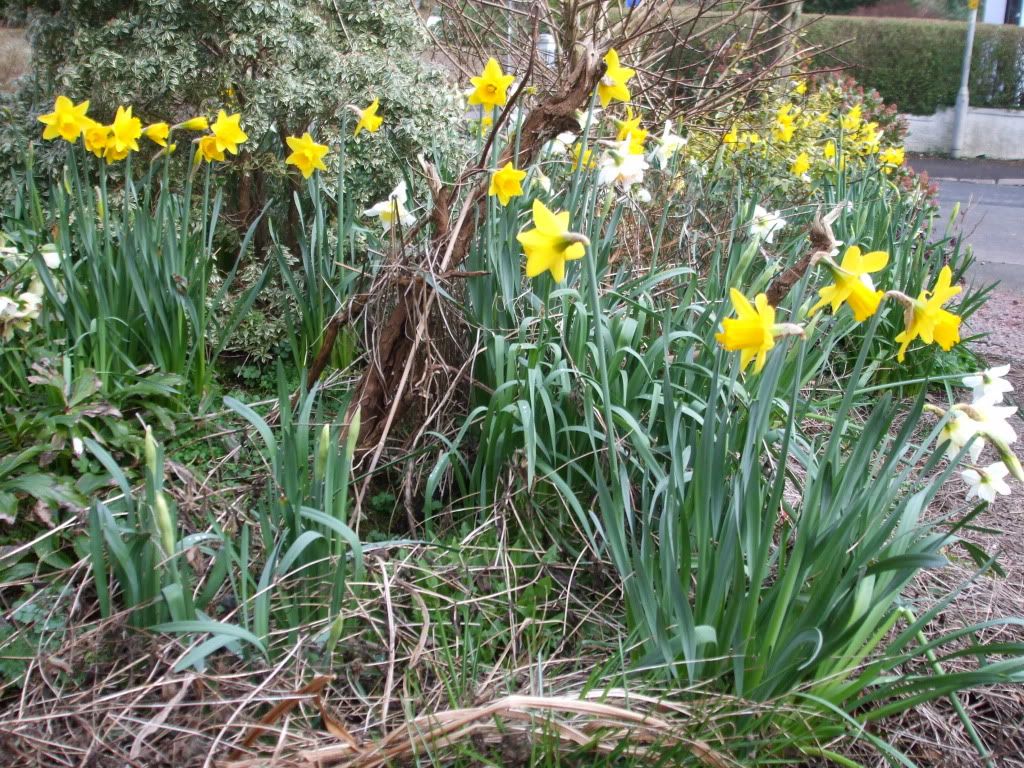 And a close-up now:-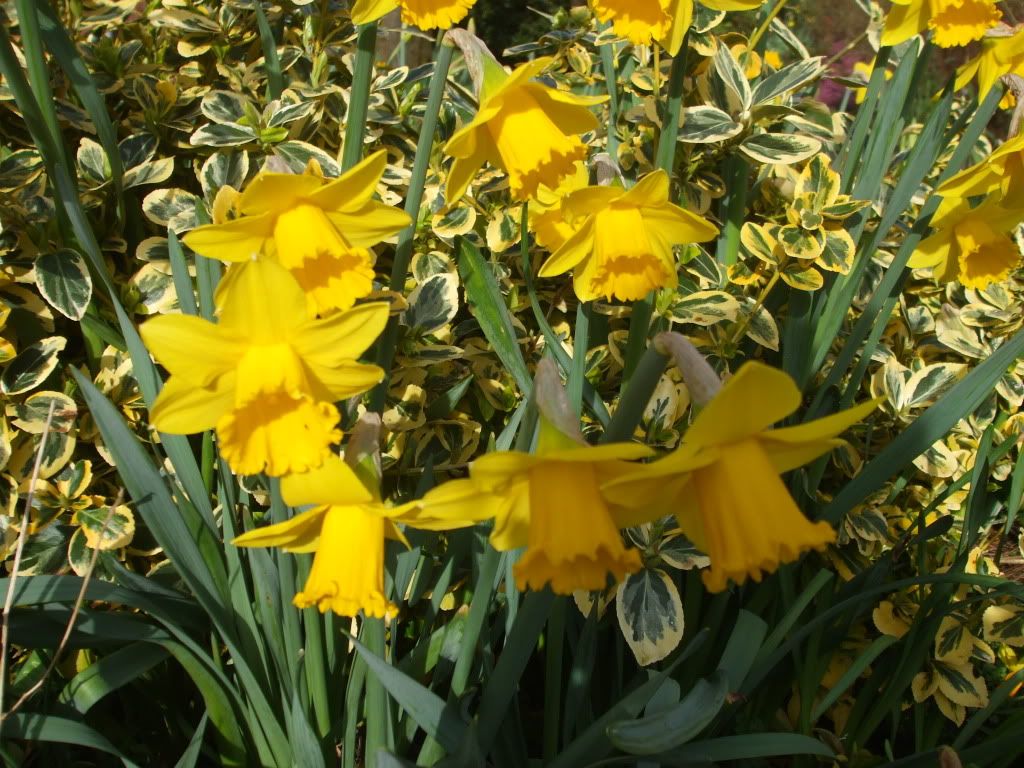 I wanted to feature 'Jetfire', but they're past their best, unfortunately...
A change of species now, but there's still a Welsh theme. When my Aunty O moved up north, she moved into a nice little house with a hurrendous downstairs neighbour, who probably sent her to an early grave (okay, she was in her nineties, but she got really stressed by this b*****d, though thankfully, she managed to outlive him and at least enjoy a couple of months' peace and quiet before she died). These pretty primulas were living in her front garden, and when she passed away, I divided one and took it away as a memento. As you can see, it's now thriving.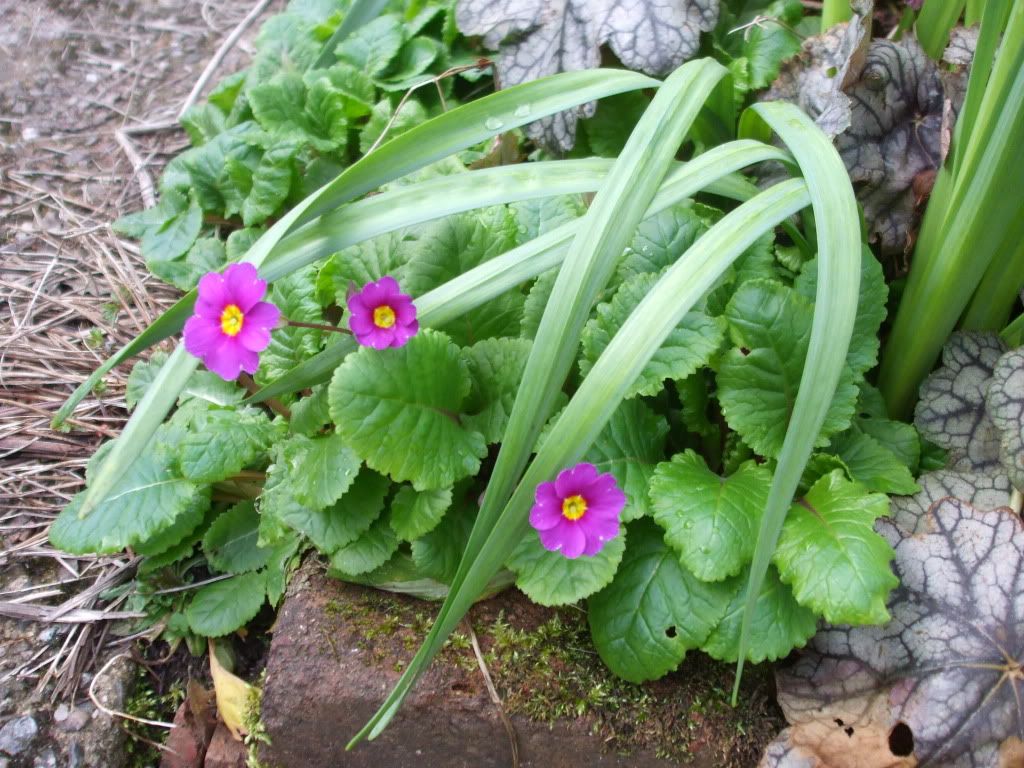 Aunty O was a HUGE Welsh rugby fan, and she'd have loved to see today's match (as would my mum, who also loved her rugby...). I'm sure they'd both have been really proud of Wales' performance today...
And lastly, I'd like to report an insect plague in the garden. This is a VERY GOOD THING, as the plague in question is of ladybirds. We counted four in a very small two metre length of flower bed today, so where there are four, there are probably forty...
Just to prove it, here's a photo, though it's a close encounter of the rather blurred kind...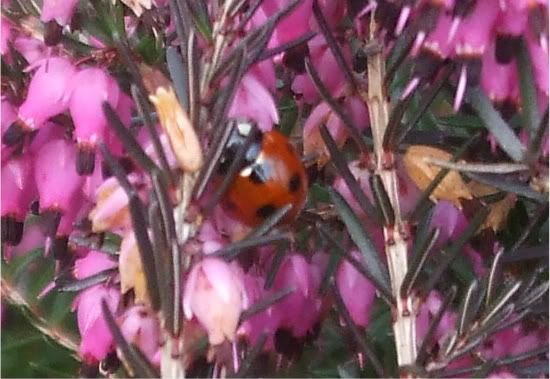 And it's a seven spot, as opposed to one of those horrid Harlequin imposters that are munching their way across the country.

Lastly, according to spaceweather.com, there's a good chance of aurora tonight. AND THE SKIES ARE CLEAR!!! Eeek!!!! Let's hope that magnetic solar flare heads right this way!!!