St Andrews is, of course, synonymous with golf. And while golf does have its roots wa-a-a-y back in the late medieval period (paille-maille with attitude, perhaps?), it's my own personal opinion that a round of golf is no more than a waste of a good walk, and that your average golf course is sterile and boring.

So there will be no further references to golf, golf course, or anything golf related.
St Andrews is also famous for its university. And its most famous graduates: no, not my colleague The Classicist, but that well-known couple who attended it at the same time, Wills & Kate. The University of Saint Andrews is enjoying its 600th anniversary this year, which is why I wound up going to Saint Andrews in the first place....
An aerial view of the town first of all, taken from the top of St Rules' Tower (which I will be featuring at a later date...). The Castle (i.e. The Bishop's Palace) can be seen on a nearby headland.
There are pantiled houses aplenty, a true Fife speciality, and a lot of these buildings are very, very old, going back to the seventeenth or eighteenth century, if not earlier. Saint Andrews was never a successful centre for trade and commerce, so it never had the nineteenth century makeover which wiped out the medieval centres of places like Dundee. As a result, the street plan can be traced back to the medieval period,
Here's a view of a building showing typical Scots features like crow-stepped gables, though its roof in this instance is slated and not pantiled. It's hard to guess how old it is, as the exterior is rendered, but it's potentially quite ancient.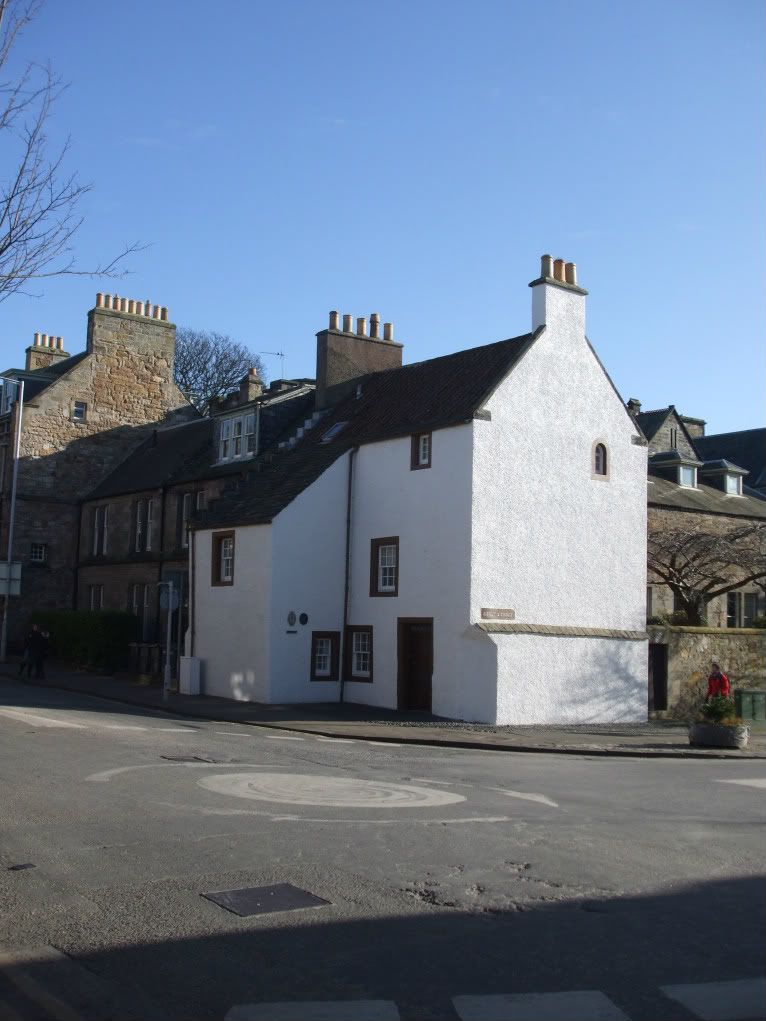 And lastly, a street scene, with pantiles and crow-stepped gables, and a view of the castle for good measure!!