The begonia, for those who are interested, failed to make it through surgery. The rot has set in with a vengeance overnight and the unfortunate tuber will not even be decanted to the compost heap. It is a leper amongst plants, I fear...
And... The garden poltergeist has been at it again. I found one of my penstemmon cosies well and truly demolished this morning. The fleece had been tossed aside and straw was strewn everywhere. J blames the squirrel: I blame Squinty & her pals.. Blackbirds will go to enormous lengths to pursue their grub...
Anyway, I'm about to settle down to some writing, but before I go, I thought I'd take you behind the scenes at Lincoln Cathedral.
We first embarked on a cathedral roofwalk at Salisbury Cathedral, and we both found it a fascinating experience. It's a chance to get your head round the actual nuts and bolts of the structure, and there's all sorts of bits and pieces tucked away well away from regular view.
Lincoln also offers a roofwalk, which I'd wholeheartedly recommend if you're visiting. It starts at the west end, with access to the roofspace occurring via a little side chapel which doesn't seem to be in public use. This is a particularly interesting space, as it has some fabric from Bishop Alexander the Magnificent's Romanesque building surviving in situ. Here's a view of this earlier fabric, which once formed the external south wall of the cathedral building:-


When Bishop Hugh rebuilt the structure, he expanded the footprint outwards, forming this new space, which is Gothic in character, pretty much throughout:-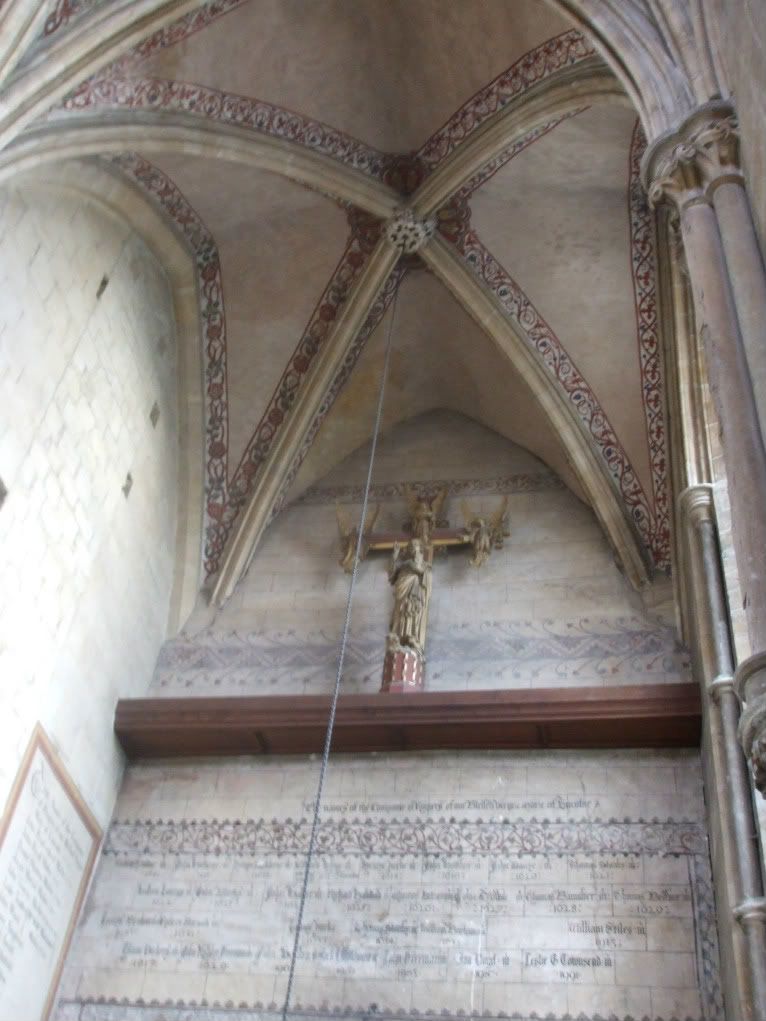 I particularly liked the paintwork around the vaulting: it looks very faded and ancient, but in reality it's quite modern. I thought at first it might be 17th century, but the inscriptions are actually a series of names and dates, and some of them seem to be early twentieth century (the photo's a bit blurred when you zoom in too close...)

As usual, I wish I'd paid more attention now!