It's been a quiet day today. I'm nursing a slight cold, so instead of thrashing myself with a workout, we went for a quiet walk around Lochwinnoch, and I visited The Dumb Proctor ( a late medieval carved stone which I featured on a previous blog post , which you can check out at
http://endlessrarities.livejournal.com/126359.html
)
More from Lincoln Cathedral now, and if yesterday's post served as a tantalising introduction which emphasised the massive scale of the place, today's post will, I hope, bring some of the architectural details in the west front to the fore.
The fabric of the building as we see it today dates mainly to the thirteenth century, but it had its origins in the eleventh century, and some elements of its original Romanesque form can still be identified, particularly at the west end.
Most of the recessed bay shown below is Gothic, and evidence of the later build, but the large doorway with its triple arrangement of rounded arches is part of the original Romanesque structure:-
.
Smaller doorways flank the monumental main entrance, and once again, they are part of the original Romanesque structure, as the ornamental mouldings clearly testify (ah, those good old dog-toothed mouldings!!). The designs on the vertical shafts which flank the doorway are reminiscent of the monumental columns which form such dramatic features in Durham Cathedral and Lindisfarne Priory Church, and will indeed be pretty much contemporary in date:-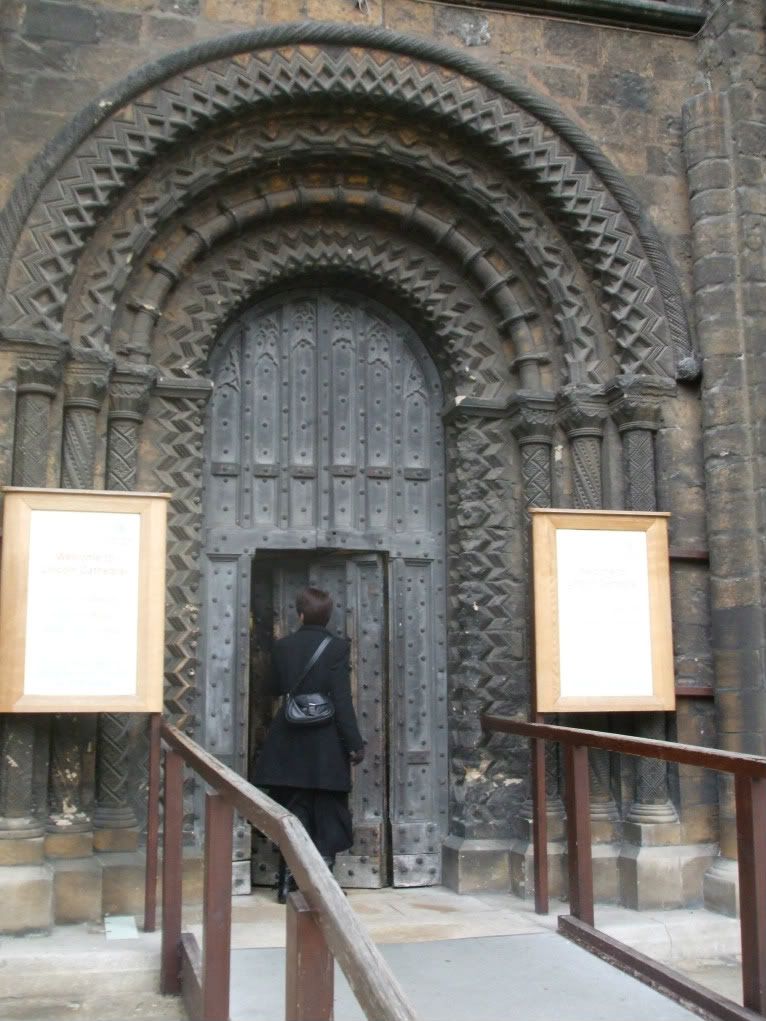 And lastly, for extra 'wow!' factor, here's a close-up of the mouldings:-