It's been a while since I featured my 'View From The Office' slot - which just goes to show how desk-based my work has been just recently (huzzah!!)...
Today, I'm delighted to continue the tradition. Here, then, is my View not From The Office, but Of The Office.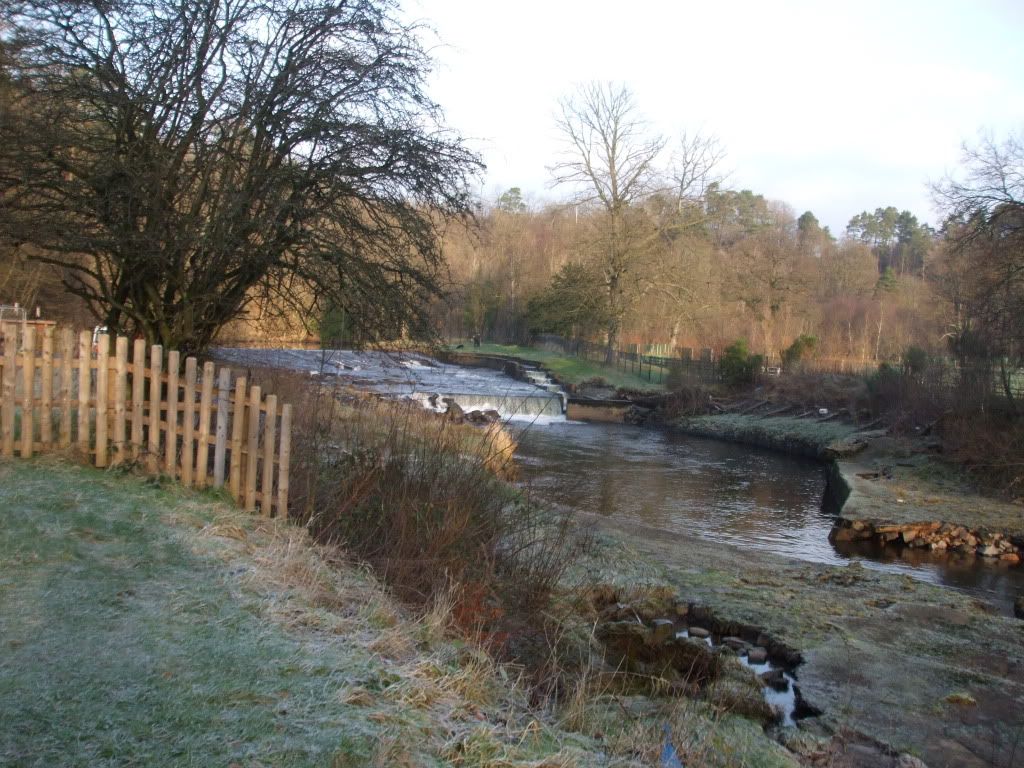 And a close-up of today's target monument, the late 18th century (with mid-19th century modifications) crib-and-plank weir. No, it's not me teetering on the brink in that photo, though I did take a stroll across the thing before the works began.


I've never given much thought to weir construction before, but I was much impressed by this particular beast. The upper portion of the spillway (tee hee - a technical term!!) was slabbed with massive sandstone setts shaped like railway sleepers, and interspersed with the original timber frames for each of the 'cribs' which make up the weir. Think of it as an early gabion - instead of the hardcore being placed within a wire basket, it gets placed within a wooden box...
I'm delighted to report that no historic timbers were injured during today's works, which seems remarkable, considering that they were very poorly preserved and hanging in place by the skin of their teeth. No archaeologists were hurt either - though I did manage to slip and fall and get myself a rather damp bahookie... I'd minced my way successfully over the sandstone setts and concrete repairs (which both sloped intimidatingly) but when I ventured onto the lower whinstone apron (which is flat), I upended myself. Whinstone is like black ice when wet - as visitors to Fingal's Cave will no doubt testify...
But the camera survived, and I survived, and I'm hoping the construction crew were too busy footering with the pumps to notice my debacle...
Anyway, here's a view of the sluice system which carries the river water into the lades and holding ponds (also called voes) which once powered the Catrine Mills. The arched culvert is particularly nice, and I believe it's part of the late 18th century infrastructure:-
And here's a close-up of the sluice gates. The timber gates are modern, but the the iron shaft to the rear is nineteenth century. It once formed part of a regulating system which adjusted according to the strength of the flow, protecting the lades and the mill wheels from surges:-

I
hope you like it! I had a ball, and I'll be out again before the end of the week to watch them dig another hole. And next time, I'll be looking out for those whinstone setts!!