Back to Shrewsbury now, and one of its less obvious survivals of early building fabric, and one which I found only because I was tipped off by one of the local tour guide.
It lurks in
The King's Head
pub. This is a nice traditional name for a pub, and you 'd expect it to be coupled with a picture of King Charles I on the inn-sign. Who got his head lopped off, poor thing (I'm just waiting for the Parliamentarians to respond on this one. They know who they are!!). But no. This particular inn-sign features that most unexpected of subjects (and my own personal favourite amongst the entire English monarchy): Henry VII. [Simpsons fans, altogether now! Let's have a chorus of 'We Are The Mediocre... English Kings!!]
Henry VII, bland, reasonable, and thoroughly unlike his ghastly younger son, seems like an unlikely subject to celebrate in this manner. But Henry had Welsh roots, and Shrewsbury's location in the Welsh marches means a connection with Henry isn't hard to find. In fact, he reportedly stayed in the town, at the appropriately named 'Henry Tudor House' prior to the Battle of Bosworth Field in 1485.
I'm not really wanting to talk about Henry VII today, as
The King's Head
hides a more impressive secret. Restoration work on the building fabric in the recent past revealed this:-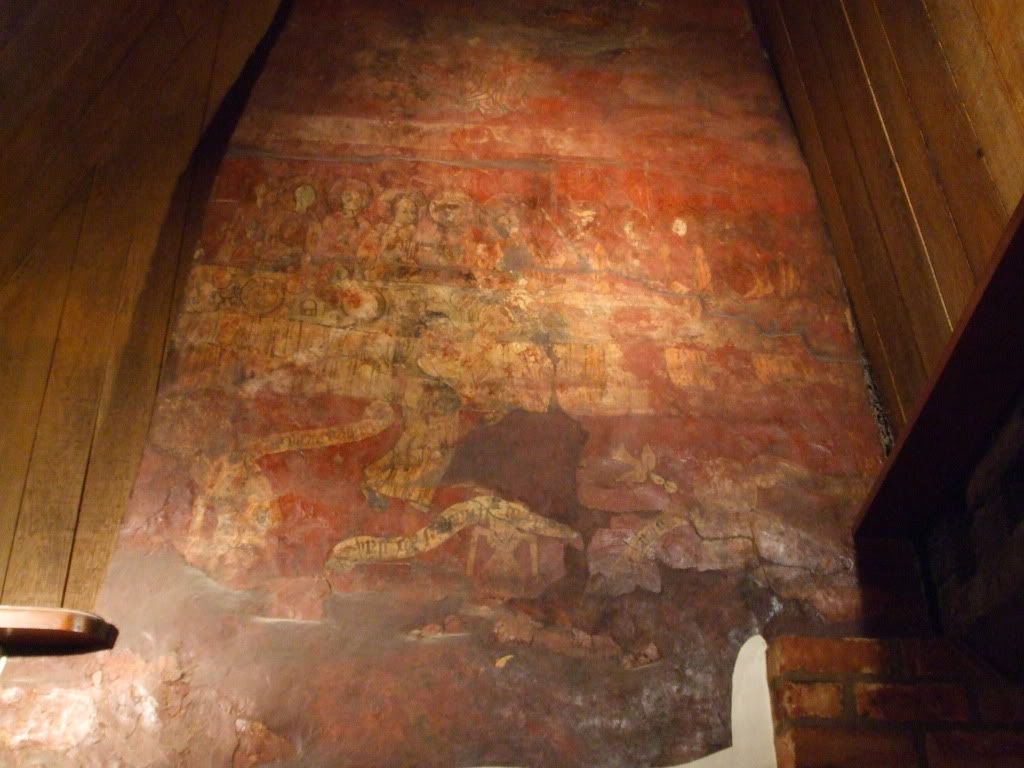 It's not exactly up there with Michelangelo and Da Vinci, but as a rare survival from our medieval past, it's breathtaking. The subject is religious - it features both the Last Supper and the Annunciation, and is thought to date to the late 14th or early 15th century.
It was just the thing to enjoy after a long day spent sniffing out historic buildings while relaxing with a nice beer!!